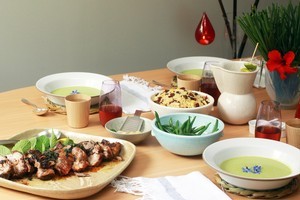 If your taste is contemporary and your style is minimal your Christmas table might be somewhat pared back. Hint at Christmas in a modern way by taking a decorative bare branch or black bamboo canes and dressing them with something shiny. Mix and match your sophisticated glassware with some more earthy vessels like Japanese beer cups used for water. Drop in a little retro, such as a 70s New Zealand pottery platter on which to serve the lamb. Use handwoven towels for napkins. Search design stores, Trade Aid shops and vintage shops for your setting. While keeping the palette cool and calm, don't take this less-is-more approach with your food. It is Christmas and we need to be indulged.
MENU
Chilled minted pea soup
Cool in taste, temperature and colour this is a great way to start.
1 Sweat off some shallots in a little butter until soft but not coloured.
2 Add peas (frozen are fine) and cover with chicken or vegetable stock. Simmer until tender. Blitz in your processor with some fresh mint then strain through a sieve. Blend in some cream, season with white pepper and salt. Chill in the fridge until ready to serve.
3 To add zing to this soup, peel a few knobs of fresh ginger and freeze them. Serve to the table with a ginger grater or micro plane so your guests can shave fine shreds of frozen ginger into the soup.
Lois' lamb with couscous
1 Prepare the butterflied lamb shoulder as described under the Traditional section.
2 Make some couscous and stud it with dried fruits: apricots, cranberries, golden sultanas plumped up in orange juice and warm water. Add a rich selection of toasted nuts: almond slivers, chopped macadamias, cashews and hulled brazils.
3 Add a golden glow to the couscous by soaking some saffron threads in a little hot water and mixing these through the grains when you add the fruit and nuts. Serve with the lamb and some steamed green beans.
Christmas pudding
Take the most up-to-date approach to entertaining - buy it. I found these Christmas Cake Muffins at my local Baker's Delight. They are soft and spongy and, when warmed up, taste very like a Christmas pudding. Serve these with store-bought custard that you have enhanced with pure vanilla syrup or paste. Tell your guests you made them.