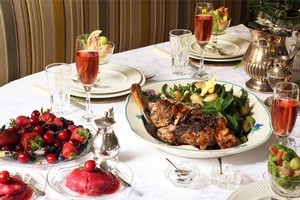 Choosing a traditional setting is an opportunity to pull out all stops and show off the family silver, Nana's damask tablecloth and old china, whitelinen napkins, your best glassware and all things precious and formal. If you have not inherited such things, Hospice shops are great places to find the right look.
The tablecloth must be white and a formal table arrangement is essential. I put this one together based on that ridiculous Victorian contraption the epergne. I set some pine leaves on a glass cake stand, used artichoke heads, silver balls, chandelier crystals and some glass test tubes to hold the fresh flowers. Dot tea lights around the table using silver or cut glass containers. Use all the old cutlery you have and overdress the table with those antique tableware pieces that are hiding away in your cupboards.
THE MENU
Prawn and avocado cocktail
1 Make a seafood cocktail sauce by blending mayonnaise, a little tomato paste, a dash of Worcester sauce, a dash of tabasco, a squeeze of lemon and, if you like, a glug of brandy.
2 Season to taste then fold through cooked prawns and avocado balls made by using a melon baller (dress these with a little lemon juice to stop browning).
3 Arrange some small cos lettuce leaves in glass dishes or bowls (I used crystal coupe dishes) and spoon in your prawn and avocado mix.
Lois' lamb
Lois Daish wrote the Listener food column for many years. Her food and ideas were always straightforward and approachable, a bit like Lois. She is an old colleague from Wellington restaurant days and has generously (another of her many qualities) allowed me to reprint her recipe. Traditionally, a large roasted leg of lamb would be the meat du jour on Christmas Day. These days that leg might blow the budget if you are feeding a crowd. This slow cooked lamb shoulder is economic, sweet and tasty. Allow 200g of uncooked meat weight per guest when you are buying the lamb and adjust the recipe accordingly. Lois suggests a shoulder feeds 3-4, these would be very generous serves but would give you leftovers for Boxing Day.
Ingredients
2 cloves garlic, crushed with 1 tsp of salt
Juice of 1 large lemon
1 tsp freshly ground black pepper
1 tsp ground coriander or allspice
¼ cup olive oil
1 lamb shoulder, boned and butterflied
Salt and pepper
To finish
Lemon juice
Honey
Chopped mint leaves
1 Mix together the garlic, lemon juice, black pepper, coriander or allspice, thyme and olive oil, to make the marinade.
2 Trim off excess fat from the lamb then use a sharp knife to score a diamond pattern in the fell (skin) and remaining fat covering the shoulder. Rub the marinade into the meat and put in a covered bowl in the fridge for as long as possible (ideally overnight at least).
3 Three hours before the meal is to be served, preheat the oven to 210C and lay the meat shoulder skin-side up in a roasting dish. Sprinkle with salt and pepper and roast for 30 minutes, then lower the heat to 150C and roast for another 2½ hours.
4 Remove the lamb from the oven and put it on a large, heated serving platter. Pour the juices from the pan into a bowl and skim off the fat. Return the juices to the roasting pan and bring to the boil, scraping up any tasty residue in the pan. Add a squeeze of fresh lemon juice, a dab of honey and the chopped mint leaves. Serve a spoonful of the sauce with each helping of lamb.
Vegetables
You must have new potatoes and peas for a traditional Christmas dinner. I served the lamb with Jersey Bennies, snow peas and green beans and fresh podded peas, all cooked or blanched separately, kept warm and mixed together with chopped mint and butter before taking to the table.
Dessert
Fresh berries and cherries complete this menu. You could simply serve a pile of these with cream but if you have time, make Summer Puddings.
Summer pudding
Individual servings are impressive. These need to be made the day before.
1 Line small dishes or glasses with clingfilm.
2 Line again with white, sandwich-sliced bread, pressing the bread together where the slices join to make a complete case for the berry filling.
3 Mix washed strawberries, raspberries, blackberries, blueberries, red and black currants and sprinkle with castor sugar. Warm in a pot until the juices start to run. Cool.
4 Spoon the berry mix into the bread case, allowing the juices to soak into the bread. Top with a bread disc and cover with glad wrap. Sit a can of something on top of this to compress the contents. Refrigerate overnight.
5 Turn the puddings on to your serving dishes, easing the pudding out of the glass by gently pulling the clingfilm lining. Offer cream.