Everything from traditional lamb to barbecued prawns and tropical fruit give a Kiwi flavour to Christmas festivities.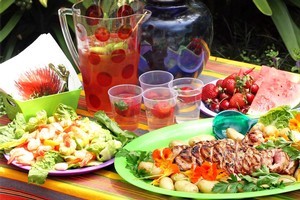 Once upon a time, not too long ago, you had to start getting ready for Christmas Day in October.
The Christmas cake would need be made, soaked in sherry, tightly wrapped in baking paper, sealed in a cake tin and left to macerate for a month. Then the cake was covered with almond paste, rewrapped and taken out a week before Christmas to be coated in white Royal icing and decorated with icing holly leaves and silver nonpareils.
Christmas puddings would need to be steamed and stored away to mature, each containing a coin (in pre-decimal times that was a sixpence), to be discovered by one lucky person at the table.
Lunch was actually dinner. It consisted of a major leg of roast lamb, roast vegetables, boiled vegetables, the first new potatoes, the first season's peas, mint sauce, gravy. This was followed by steamed pudding, custard, trifle, fresh berries, bottled fruit, icecream, cream, mince tarts, chocolates and, of course, the Christmas cake.
Dinner, which was actually more like lunch, would probably be cold. Ham, salads, more new potatoes and peas. Spanish cream, more trifle, strawberries, ice cream, cream, mince tarts, and more Christmas cake. Around 9pm supper would be served. Tea, an array of cakes and biscuits from those overflowing tins and, just for good measure, another slice of Christmas cake. It was a BIG day.
Fast forward to 2011, times have changed. We are busier, we are more casual, we have left behind many of the references to a European Winter Christmas. We probably involve more friends than family, we still want to make it special but want less fuss. I hope these ideas smooth your path.
Table settings and food ideas
We each have our own style and taste. Hospitality is about welcoming people to your table and sharing food and conversation, about going to a bit of trouble to make your guests feel important and cared for. I'm all for creating a setting, serving simple honest food that you don't spend days in the kitchen making and having people appreciate being at your place. In the Christmas spirit, several friends have shared recipes, ideas and props for this shoot, my thanks to you all.
All these food ideas are simple and most could be cooked and served on Christmas Day.
Thank you Wishing you all a very happy and safe Christmas and thanks for following Savour. Thanks also to the friends and suppliers who have provided ideas, inspiration and product during the year. I hope you have found some useful tips and recipes to make your life in the kitchen a good one. See you again in the New Year, Grant.
For this Christmas spread, thanks to:
* Lois Daish and Drew Cruickshank for their recipes.
* Pt Chevalier Bakers Delight
* Pt Chevalier Hospice Shop
* Tribal + Tribal tribalandtribal@gmail.com