Don Kavanagh is hoping for some sturdy seating this summer.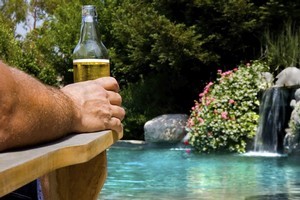 Summer is here and it's time to get outdoors, enjoy a meal and a few drinks in the open air.
The very idea of enjoying a few fine beverages while gazing out over many of the fine vistas that surround Auckland is so beguiling I can almost taste it.
Sadly, it's easier for some of us to enjoy it than others. As a more traditionally built bloke, I find that bars tend to assume we all weigh about 50kg when they are buying outdoor furniture. I love to find a bar with solid furniture because it spares me the embarrassing practice of lowering myself gingerly into whatever flimsy construction passes for furniture these days and hoping that the legs don't splay out beneath it.
I have collapsed on to the concrete a few times now and it doesn't get any easier or less embarrassing.
My most acutely red-faced moment came a few years back when I joined some friends at Ellerslie racecourse for the Boxing Day races. It was a stunning day and I strode purposefully across the infield, chilly-bin in hand.
When I arrived at the place where my friends were, I plonked myself gratefully onto a camp chair that promptly dissolved underneath me. Lying on the ground amid the wreckage, I looked up and noticed that the big screen, in the absence of any racing, was replaying my shame to about 24,000 guffawing punters, who lost no time in doing the whole point-and-laugh routine. It's a wonder I showed my face in public after that.
So all I ask for is a solid seat.
It doesn't have to be carved from the wood of a mighty oak or bolted together like the Severn Bridge; it just needs some structural integrity. And I'm not alone. I'm not the largest person I know and I'm certainly not the largest person I see walking down the street, so you'd think there would be a market for hefty furniture.
We can't all be sylph-like figures and I for one wouldn't want to be.
I like my bulk; I'm attached to it and it's all paid for, so I don't particularly want to lose it. Nor do I want to be penalised for it, so will someone please make a solid range of outdoor furniture for the likes of me?