Wouldn't it be great if gyms lowered the wattage in their lights, Wendyl Nissen says, then we could exercise in complete anonymity.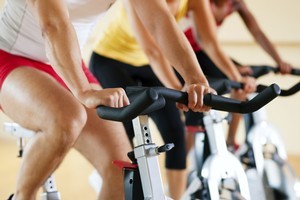 "I thought you said no one we know goes there!" I grumbled at my husband having been for my first workout at his gym.
According to him, the gym he has worked out at for a decade is full of faceless people who can be safely ignored and you are therefore free to work out in relative anonymity with no need to engage in conversation.
As we all know, the first workout at a gym is always nerve-wracking. I live in fear that as I walk on to the floor the whole room will draw breath and feel pity for such an obviously unfit person attempting to be among them.
But, as it happened, I merely spent the first five minutes attempting not to see the celebrity woman who I last saw on the cover of a magazine in a white bikini. Then there were several "media personalities" and one very grumpy famous sportsman.
"No matter," I told myself as I jumped on the cycle to warm up. "Just get on with it."
My decision to join the gym was not, as it has been every other time, to lose weight.
God knows I have weight to lose but the only people I know who have achieved this at the gym have also stopped eating and drinking. I had no intention of embarking on that rigorous combo.
My decision to go to the gym came one glorious spring morning when I conducted my yearly dig of the vege garden. I'm a double digger so it can take some time but, normally, I have it done by lunchtime. After 10 minutes I had to have a sit down and a cup of tea.
"I'm exhausted," I said to my husband, who promptly offered to help.
"No, this is my ritual," I insisted.
By five o'clock I had finally managed to dig it over and threw myself into the bath to recover.
But when it was time to get out, I couldn't.
"Now that is just sad," I whispered to myself. "You're not even 50 and you're going to have to get a caregiver to come over and get you out of the bath!"
There was no way I was calling my husband to do it so I rolled around a bit and worked out that if I turned on my stomach and raised myself on all fours I could then stand up and climb out that way.
Drying off in front of the bathroom mirror was harrowing.
Not one single muscle was prepared to own up to its existence. Standing naked before the mirror I came to the horrifying conclusion that I was the poster girl for muscle atrophy.
And so I found myself at my husband's gym, surrounded by muscle-bound, toned celebrity figures, screwing up my face with the effort of reminding my muscles of their purpose in life.
Which is when the headache struck. A blinding shooting pain at the front of my head.
"Brilliant. Now I'm going to have an aneurism in front all these people," I thought as my head pounded away.
"White bikini will give a first-hand account to the gossip pages, sports guy will insist on giving me mouth-to-mouth and the media personalities will ensure the story gets blanket coverage.
"And then at my funeral everyone will patronisingly comment that I died looking after myself."
And then the workout was over.
"Wasn't that bad, was it?" commented my husband.
"Worse than you could ever imagine," I replied.
But I went back and I'm still dragging myself there three times a week.
Then just the other day I managed to haul myself out of the bath with my slowly reviving biceps rather than do the rollover routine.
"Alright?" asked my husband as he wandered into the bathroom.
I had been caught in the act of kissing my biceps.