Summer holidays, here we come.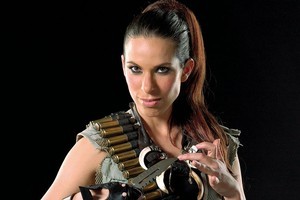 It may be hard to imagine now, but sometime over the summer school holiday, you will tire of the sun, sand and beautiful beaches and crave stimulation and shade. Here's what's on offer.
Corner Kitchener and Wellesley Sts, open 10am-5pm, entry is free. Sessions are $16 a child, check the website for availability and times or call 09 367 1930 to book.
Book into a workshop, such as Fantastic Hairstyles and Hats for ages 5-8 where kids can explore the 18th-century dresses, hats and hairstyles of Henry Fuseli's portraits in the gallery. For children aged 9-12, sessions include Drawing the Model, again with the costumes of Fuseli's portraits as a basis for pen, ink and wash techniques. The great thing about art gallery classes is the way the tutors put fun into a wider art world context.
Because the gallery is good for kids in short bursts, as well as being free, you can visit often - make it a part of any city visit. A train, bus or ferry will turn it into a great day-trip or wander through Albert Park with a picnic afterwards. Download the family brochure Survival Kit for tips on getting the most out of the art gallery, such as focusing on a few artworks each visit and getting children to guess how the artwork is made. The Learning Centre is always open and Family Drop-In Art Sessions every Saturday, 1-3pm, are also on through the holidays.
The Auckland Domain, Parnell, ph 09 306 7048 for bookings. Open seven days, 10am-5pm. Summer Nights at the Museum is on Mon-Thurs, January 16-26, from 5pm. Museum open 6pm-8.30pm those nights, $20 a person (includes entry to The Poisoners exhibition), members $15, 3 years and under free.
A new exhibition, The Poisoners (December 16-May 6), lets children help bumbling Detective Dick Sharp solve a murder and there are special mask packs for under-5s. There's also a new Summer Nights at the Museum series with twilight picnics in the Domain to watch dangerous displays before "after dark" tours of all the dangerous, deadly collections in the museum - not for the timid.
For the first time, the museum is also offering workshops for kids, including illustration, junior archaeology and superhero comic creation sessions. There are also mountain story walks up Mt Eden with Pita Turei at the end of January, as well as guided tours of the collections and the Museum Library.
Museum of Transport & Technology (Motat)
Great North Rd, Western Springs, ph 09 815 5800, open 10am-5pm, seven days a week. Family pass $35.
This side of Christmas, Motat is getting crafty with make-and-take sessions every Saturday and Sunday from 10am-4.30pm until Christmas Eve and a new project each week.
On Friday, Saturday and Sunday evenings, also until Christmas Eve, head to the Motat Nights, Christmas Lights family event between 8pm and 11pm, including the Victorian village lit brightly with Christmas lights, live entertainment, music, night tram rides and festive displays. Instead of admission, buy a gift from the shop and it will be presented to someone less fortunate for Christmas.
Into the New Year, Motat has a Playing With Light exhibition until February 6. It focuses on 20 scientific interactive displays and visitors can colour an entire wall with virtual paintbrushes, enter the crazy world of a toy kaleidoscope and inspect the futuristic concept of holograms.
Viaduct, ph 09 373 0800, 10am-4pm, $5 with an Auckland resident proof of address or $17 adults, $8.50 children.
A Day at the Seaside runs from January 9-30. Feed and catch real fish and play seaside games from the past, make sandcastles and become a king or queen of the seaside - you get to take away your own crown.
Motions Rd, Western Springs, ph 09 360 3805. Open 9.30am-5.30pm, with last admissions at 4.15pm, seven days a week; $22 for adults and children over 15; $11 for children, free for under-4s. Seniors and students $18 or a family pass is $40 (1 adult, 2 children) or $60 (2 adults, 2 children). Catch the final day today of Christmas at the Zoo, a five-day series of activities that run from 9.30am-5.30pm.
Crack the 12 Days of Christmas puzzle trail and see Santa during interactive shows at 10.30am, 11.30am and 1.30pm daily. Non-members pay $5 for the puzzle trail map, including a family photo. On January 24 there's a public safari night with a barbecue, guided night walks and the option of a sleepover or, if you're feeling brave, drop off the kids (8 and over) for a kids only safari night on January 25, including a barbecue, guided night walk, family movie and sleepover: $48 a person. There's also a junior keeper programme for 6-18-year-olds in which they can help to clean, feed and care for zoo animals. Call 09 360 3817 for details.
Park life
Auckland Botanic Gardens' January workshops look at patterns and shapes found in nature, leaf creations and a native forest survivor trail, as well as "10-minutes fun" between 1.30pm and 3pm to make something crafty. Open daily 8am-8pm.
If you live on the North Shore, there are 399 free, family-friendly outdoor activities on offer in 55 parks and locations across the Shore. Search "Summer Fun" on aucklandcouncil.govt.nz for locations and times. A van crammed with outdoor toys such as giant Connect Four, frisbees and Space Hoppers will be touring parks to offer a change from monkey bars and slides.
Explore with a book
Don't let reading skills slip over the holidays. Sign up to the Auckland Libraries Dare to Explore summer reading adventure programme, perfect for reluctant readers who may enjoy reading more if the challenge is to read a book up a tree. There is a party at the end of the programme is further enticement.