Cosmetic connoisseurs will adore these items.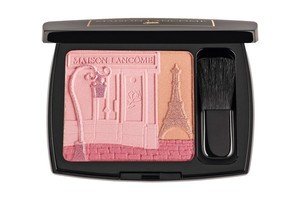 I confess to having a small collection of pretty-as-a-picture palettes. The carefully calibrated cosmetic colours are designed to be worn together, not gather dust in a drawer, but I'm loath to poke about with such miniature masterpieces.
Each season there will be either a dreamy new shade selection or an exquisite little limited edition case that catches my eye. Bobbi Brown's Tortoise Shell palettes did it for me for this year and Dior's miniature handbag cosmetic carry cases are always collectable.
If you're not a compulsive hoarder like me you'll be pleased to know that as well as looking great, these palettes are very wearable. The likes of Lancome's latest may seem more decorative than practical, but as with many other high-end blush, illuminator or powder compacts (such as Bobbi Brown's renowned Shimmer Bricks) it is designed for you to swirl a brush through the series of colours and then sweep it across your complexion for an enlivened look rather than the obvious application of just one shade.
If you do wish to preserve the Parisian picture a little longer you can pick out individual colours, but eventually it will be a case of use it and lose it.
Such a shame, but as with Clarins' lovely Cotton Flower collection, there will always be a new seasonal crop coming along to replace it. Look out in February for the New Zealand launches of the Northern Hemisphere's spring-summer makeup palettes which include some stunning sunset shades still in time for a late summer outing here.
Meanwhile, Christmas brings its own temptations. (If you're travelling check out duty-free stores and in-flight shopping for even more palette options, that way you can convince yourself you're buying a practical all-in-one kit rather than simply indulging.)
1. Dior Blue Tie Evening Essential Smoky Eyes & Nude Lips in Smoking White $155
Think a midnight blue tux worn with sparkling, feminine makeup. This silver palette caters for the eyes and a little lid lifts to reveal lip gloss.
2. Lancome Maison Lancome Vintage Fresh Glow $77
So chic, so girly, now just transport me please to the home of Lancome in Paris so I can pick up that French je ne sais quoi - and some application tips from Lancome's New Zealand-born head of makeup Aaron De Mey.To avoid jet lag, I'll settle for the colour collection's Blondette Fatale Eye and Brow Shadow Palette ($88) in the most useful browns, best teamed with red lips and nails for an eternally elegant look.
3. Yves Saint Laurent Midnight Garden palette $114
Peacock colours for the exhibitionist who finds beige blah in a limited edition five-colour compact. YSL's international makeup artist Lloyd Simmonds says he was inspired by hot-house gardens to come up with a lush intense look that works well with fuchsia lips.
4. Chanel Illusions d'Ombre Prelude Eye Palette $120
These are classic matte and satin finish shades designed to complement statement lips. The shadows in grey brown, grey beige, luminous beige and deep taupe will work well on most colouring.
5. Clarins Passion collection eye palette in Smoky Passion $84
This sophisticated selection of pink, grey and silver pearl shades makes a smoky eye wearable for all ages. The subtle shades can be applied dry or wet for more intensity.
6. Bobbi Brown Ultimate Party Collection $165
The palette opens up to reveal eight eye colours and a slide-out drawer containing four lip shades. Bobbi Brown consistently does the most useful palettes around. Other beauty brands focus theirs on seasonal colour collections, but she always stocks basic shades. The holiday range includes Classic and Party Go To Palettes, each with three eye and two lip shades for $85, and several excellent eye kits.
7. Smashbox Snappy Holidays Be Discovered Palette $180
This all-in-one great value kit will appeal to the makeup artist in any woman. It contains 45 eye shadows, five cream liner shades, three blushes, one bronzer, two soft light illuminators, six lip glosses and four mini brushes. (From Smashbox concept store in Ponsonby, selected Life pharmacies or see online.)
Stockists: Brand counters, Clarins at selected beauty salons. Smashbox from Ponsonby Rd concept store and selected Life pharmacies.