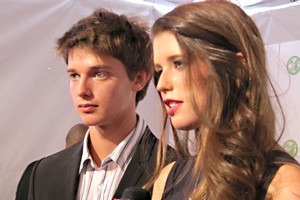 The 18-year-old son of Arnold Schwarzenegger and Maria Shriver says his charitable clothing line is his way of "giving back".
Patrick Schwarzenegger runs the company, Project360, with Nick Sheinberg and Kimberly Barth. They donate 10 per cent of all sales to a bunch of global organisations.
Patrick Schwarzenegger says he's proud of his brand's efforts to use fashion to raise awareness for important issues affecting the world.
"Nick and I thought up the company at a women's conference in 2008 by just creating little rubber bracelets. It was really successful, and Kimberly was working at another booth and she came up and said, 'These bracelets look great. I think we can expand from there'. We always wanted to do something that gave back to charity," he told MTV News.
"Fashion and wearing clothes is a daily routine for everybody. What better way to spread the word of giving back and philanthropic ways of life than to wear something that gives back to charity?"
Barth agrees.
"The idea behind it is that it's more than fashion, it's a fashion statement.
"Everything has an inspirational message that reflects the global cause that we donate to. It's about more than clothing. It's about style and looking cute, but it's really about making a difference and making a global impact together," she said.
Schwarzenegger says that his famous family have inspired his philanthrapic nature, but Project360 is the brain child of him and his fellow founders, and funded by the trio.
Barthe explained the creative process, saying they start the design based on the charity they have in mind.
"We sit down together, we ponder a bunch of names depending on what charities we've picked."
"We go through different words, we talk about what has the most meaning to us and narrow them down, and we also want what would look best visually on a T-shirt."
- AAP / HERALD ONLINE