Gift suggestions for the wine lovers in your life.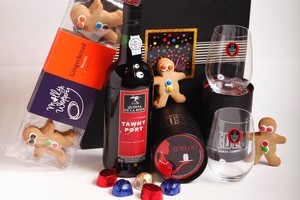 If there's a wine lover on your Christmas list and you're stuck for ideas, panic not. Here are some ideas to suit buffs to beginners, that range from stocking fillers to more significant gifts. And if you don't want to brave the hordes in the shops, almost all of these can be purchased online.
Top flight box
Kidnapper Cliffs is the relatively new collaborative venture between highly regarded wineries, Hawkes Bay's Te Awa and Martinborough's Dry River. Drawing fruit from Te Awa's mature Hawkes Bay vineyards, its instigators describe this super-premium project as marrying "prime Te Awa terroir to Dry River's methodical, terroir-focused approach to fine wine production". The result has been an extremely impressive run of wines, six of which have been gathered together in a limited six-bottle box set. This comprises a mini vertical of the three initial vintages of its Ariki merlot cabernet sauvignon (the 2007, 2008 and 2009), its 2009 malbec, 2009 cabernet franc and 2010 Solan sauvignon blanc-based blend. $290. (Available at Caro's.)
Big is beautiful
When selecting a really special bottle for a gift, look beyond the mainstream 750ml to larger formats. Not only does their limited production give them extra collectable appeal, wine takes longer to mature in a bigger bottle, which makes them particularly well suited to cellaring. Though more common in the traditional wine producing nations of the world, some of our greatest wines now come in magnums. My Christmas pick is Pegasus Bay's excellent Waipara pinot noir 2007 which can be bought as a boxed magnum for $120 or the more super-sized and super-rare, 3000ml jeroboam at $295.
Keep it chilled
A winery boasting one of the most attractive gift presentations this Christmas is Central Otago's Akarua. It has put its fabulously silky and cherry fruit-packed standard pinot noir with its elegantly impressive reserve in a chic chiller bag. $79.90. (From Glengarry.)
Hankering for a hamper
Hampers that include wine also make great gifts for the oenophiles in your life. Though many companies offering hampers select the wine for you, the flexible folk at online wine gift specialists Wineplus allow you to pick your own in the baskets they offer.
One particularly pleasant option is the Pamper Indulgence Gift Basket, which includes a Linden Leaves travel set with six holiday essentials as well as hand-made chocolates, a scented candle and a bottle of your choice.
Before you choose the wine from their list of good producers, the basket weighs in at $135. Add something like the delicious Siefried Sweet Agnes sticky and it will set you back $161.95; or splurge on a luxurious bottle of Champagne Perrier Jouet's prestige vintage cuvee, Belle Epoque and it comes out at $364.95.
Another tempting hamper is Glengarry's Luscious Late Night Treat box ($79 from Glengarry). This is packed with Molly Woppy gingerbread men, Devonport Chocolates, the tasty Quinta De La Rosa Tawny Port (750ml) and a couple of the ultra-practical stemless, Riedel O to Go white wine glasses.
Exciting wine edibles
Wine appears in presents in many guises. If you're not sure about buying an actual bottle, a wine-infused food product can make an appropriate present. Wild Appetite produce a selection of New Zealand wine-based jellies - a riesling, merlot and shiraz (or should that be syrah?) - that are great with cheese ($9.95 available online) as well as a deliciously decadent Strawberry and Champagne Chocolate Sauce ($14.95), that contains real French champagne.
Situated in pinot noir country, Central Otago gourmet preserve maker Provisions is behind scrumptious jars of cherries in pinot noir syrup ($10 from Nosh, Farro Fresh and Provisions), which is great as a dessert or with red meats or duck. This is now available in "The Cherry Box", a wooden box which also features the company's cherry chilli sauce, cherry and vanilla jam and dried cherries ($38.50).
A winery offering some creative wine confectionary is Sileni. It has teamed up with Invercargill's Seriously Good Chocolate Company to tackle the tricky task of making seriously good truffles that contain their wines. These include the sumptuous Sileni Merlot truffles made with dark chocolate and filled with dark chocolate ganache, white chocolate chardonnay truffles filled with dark chocolate ganache and exciting Late Harvest Truffles, made from dark chocolate and filled with dark chocolate ganache. These pair perfectly with the wine they contain, the classic Sileni Estate Selection Late Harvest semillon 2010 ($20 for 375ml). All the chocolates come in gift pouches priced $13.50 or boxed at $16.
Christmas-clad champagnes
Though I was pipped to the post in recommending Piper-Heidsieck's super sexy Jean Paul Gaultier dressed bottle, the house also has other seductive seasonal offerings, such as the Piper-Heidsieck Champagne Brut Christmas Skin NV, a seriously good bottle of bubbly in a lipstick-red faux crocodile skin sheath ($54.90 from Glengarry) or its liveried bottle accompanied by a matching red ice bucket ($59.90 from Glengarry).
Champagne house Moet & Chandon have gone for a classy gold ribboned gift box for the classic Brut NV ($79.90 from selected fine wine stores). Once opened, the reusable isotherm container doubles up as a gilded wine cooler to keep your champagne cold.
A good guide
For those in need of some oenological assistance, respected wine scribe Michael Cooper has just bought out his 2012 Buyer's Guide to New Zealand Wines ($39.99, published by Hodder Moa). This year the tome turns 20, and is now larger than ever, containing a comprehensive guide to the country's wine.