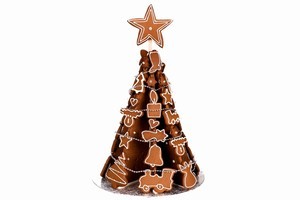 Edible trees
A small cafe in Orakei has been supplying happy locals with their Christmas trees for the festive season for years - and then they eat them. Owner of Sebastian's Boutique Cafe, Sabine Pocock, makes artisan gingerbread Christmas trees based on a traditional German recipe inherited from her family.
They can be used as a present, a Christmas decoration or as a beautiful centrepiece on your Christmas dinner table and they fill the house with the wonderful aroma of spices. $98. Ph (09) 522 9299. Trees need to be pre-ordered.
Dig this
Nothing beats baby potatoes at this time of the year; boil them with lots of fresh mint and serve with butter, salt and pepper alongside your Christmas ham or turn them into a delicious potato salad to have at barbecues. Little Diggers are a new variety to New Zealand. They're young, tender, grown in Pukekohe this season, and available for the next eight weeks, only from Countdown.
Check it out
Everyone knows Melbourne's laneways are cooler than cool places to hang out with their cafes, bars and boutiques. Now Auckland has The Imperial Laneway - a fabulous new development hidden away behind an easy-to-miss entrance off Queen Street.
Enter and you'll find yourself on the ground floor of the beautifully restored Imperial Lane building, previously two picture theatres from back in the day that straddle Queen Street and Fort Lane. The ground floor is home to Imperial Lane, a cafe and European patisserie by Elske, that transforms to an oyster/pintxos bar at night, while on the first floor you'll find two restaurants - the casual Everybody's bistro and the more elegant Roxy. This is set to become a great new dining and socialising hub for Aucklanders.
Fans of Wellington's Matterhorn will be happy to hear both restaurant kitchens are under the charge of Sean Marshall, previous executive chef of the wildly successful Wellington icon.
Dry up
We couldn't resist these gorgeous lobster teatowels, $19.90 for two, from Wallace Cotton. Crisp, fun and bright, they're perfect for summer at the bach. Available in store, online or ph 0800 222 122.
Avocado advocates
In Morocco they're called "alligator pears" due to their rough skin and elongated shape and are used to make a refreshing smoothie-style drink sold by street vendors. They're such an energy boost too that they're a popular item when breaking the fast after Ramadan. We're talking about avocados of course. Here in New Zealand we're in the midst of a bumper season with record-breaking crops of the super-fruit being picked and packed - 5.8 million trays to be precise. Some say they're the most nutrient-complete fruit on earth so we recommend you get some before they're all exported. They contain only the good fat - monosaturated - and pack a huge punch in flavour and texture; and we like that, flavour-wise, they're great friends with oranges, asparagus, smoked fish and they love a squeeze of lemon and a dash of freshly ground black pepper. Simple and delicious.
Put it on the list
* Being gluten-free doesn't mean missing out on the fun stuff this festive season. Fruit cakes in general stand up well to the gluten-free treatment and this one from Pure Delish, with more than 60 per cent fruit and nuts blended with a decent dose of liqueur, is guaranteed to be moist and full of flavour. $19.99-$69.99 from Nosh supermarkets.
* If it's chocolate you crave or a gift you need, then head to Sabato in Mt Eden for these two sweet treats. From Italy, Leone "Miraflores" dark chocolate tablets, $8.50, are studded with violet and rose sugar crystals and are pretty as a picture as well as tasting fantastic. And these brightly coloured tins of Cudie Mini Catanies, $17.90, are irresistible. Fragments of caramelised Marcona almonds are smothered in praline and dusted with cocoa and once you start nibbling on these small pebbles, you won't be able to stop.
No need to starve on your staycation
There's nothing worse than being in Auckland over the summer Christmas holidays to find that all your favourite eating out options are closed until mid Jan!
Don't fret, here's a few of our standouts from Eating Out this year that will come to your rescue - cut it out and stick it to your fridge! Remember, it's a great time to have a relaxed dining experience at these sometimes frantic, hard to get into eateries. We'll have more for next week.
* Kitchen at Hotel De Brett - Open every day
* Eight at the Langham - Open every day
* Prego - open except for 25/26 Dec
* SPQR - open except 25/26 Dec + 1 Jan
* Clooney's - open except for 25/26 Dec and 1/2 Jan
* Non Solo Pizza - open except for 25/26 Dec and 1/2 Jan
* Coco's Cantina - opens 4 Jan 2011
* Satya - open every day
Good to go
Every festive season Zarbo sell more than 2000 hampers. It's no wonder. Stranded on a desert island, camping on a beach or checking into a luxury bach, we reckon this box of supplies is almost all you'd need - freshly ground coffee, roasted garlic aioli, a mustard vinaigrette, some Indian chutney, a blueberry conserve, a cookbook of Zarbo owner Mark McDonough's famous recipes and expert baker Dean Brettschneider's recipes for success with breads, pastries and cakes and more. $250 from Zarbo Newmarket.
Menu pick
Here at Viva our search for the perfect dumpling goes on and we think we might have just found it - the dry-fried squid, pork and chive dumplings and spring pancakes created at Barilla Dumplings on Dominion Rd. You simply wrap the squid in the pancakes to make a little cigar-shaped parcel, then dip it into soy sauce mixed with a dash of vinegar. It's the best combination of flavours; the kind you just can't imagine ever tiring of. The dumplings are great too, not too heavy or doughy. The ambience is pretty down-home - with glaring fluorescent lights - but you'll be so busy enjoying the cheap and delicious dumplings you won't notice! 571 Dominion Rd, Balmoral, ph (09) 638 8032.