Send us photos of your Foo Fighters fashion here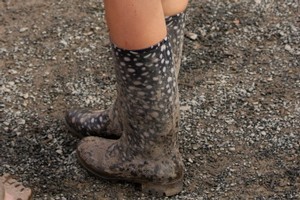 More than 50,000 Foo Fighters fans are preparing for a soggy evening during tonight's outdoor gig at Western Springs in Auckland. But that doesn't have to mean plastic ponchos clinging to your skin or black makeup dripping down your face. In fact, you can work with the elements to pull off a sexy ensemble.
New Zealand fashion guru, Isaac Hindin Miller says to channel British babes Kate Moss and Alexa Chung when pulling your outfit together for tonight's gig, which is forecast by the Metservice to be dampened by an "occasional drizzle".
"Look at images from the Glastonbury Festival, it generally rains pretty hard there and it gets pretty muddy" he says.
A pair of cut-off denim shorts teamed with a loose men's shirt is perfect.
Miller suggests going for a pale blue or white Oxford or broadcloth button-down, and says not to worry about getting grimy - embrace it.
"[It's] even better in wet weather," says Miller, a fashion columnist for the New York Times and stylist for GQ magazine.
"If you're in mosh pit anyway you're going to get wet. It's either going to be raining on you or you're going to be sweating like a pig.
"If you're going to a concert you want to look as sexy as possible, right?"
Pull on a pair of gumboots to complete the Glasto get-up - they look hot and they're undoubtedly the most practical footwear for an outdoor set. Miller loves forest green gummies and says Hunter boots are the cream of the crop.
But for the lads, Miller doesn't dig the gumboot. Instead, he'd opt for a leather boot paired with jeans and a white tee. Or match the ladies on top and button down a light-coloured Oxford. Pull a trench coat over the top for the ultimate in wet weather chic. Think the rocking style of British muso, Mark Ronson.
When it comes to your face, M.A.C makeup artist, Amy Sprott-Smith, says you can keep it waterproof without sacrificing a rocking look.
A super sleek, black eyeliner with lashings of waterproof mascara are ideal. Gossip frontwoman, Beth Ditto, does this really well, Sprott-Smith says.
Chose a creamy blush to avoid streaky cheeks and an uber-glossy pout always works. But, if you're feeling brave, step out with a bold red lip.
And the icing on the cake for Miller: "If you can get one of those hats with the umbrella over the top of them, I think those are totally awesome."
Stage times:
4.30pm: Gates open
5.30pm: Cairo Knife Fight
6.05pm: F**ked Up
7.00pm: Tenacious D
Check out footage of the Foo Fighters performing Everlong at the Sydney Football Stadium:
- HERALD ONLINE