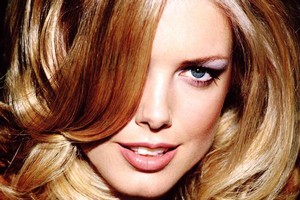 Tara Moss's husband could be forgiven for feeling a little concerned over a rival's competition for his wife's affections.
But when it comes down to it, you have to admit it's hard to match the cuddle power of a two-metre-long black-headed python named Thing.
"I name all of my snakes after Addams Family characters, I've had a Gomez, a Fester, and now I have a Thing," Moss said.
The discussion about her new book, The Spider Goddess, has been somewhat sidetracked by her slithery sidekick.
"I've had him for around six years now and he's about six foot [1.83 metres], maybe a bit longer, so he's getting interesting.
"But he's a real sweetheart, very placid, and because he's been hand-raised and given a lot of love over the years, he's just a very relaxed python."
The wonderful thing about pythons, she says, is that because they are non-venomous constrictors they give fantastic hugs.
"He is a really good cuddler," she laughs.
The Spider Goddess is her second fantasy novel featuring supernaturally gifted heroine Pandora English.
While her crime novels have won wide acclaim, she says they aren't as much fun to write as the stories peopled with erotic ghosts and creatures of the night.
"I'm still obsessed with The Adams Family and all things gothic and macabre, so being able to write about the fantastical world of Spektor in an alternate New York is a bit of a fantasy of mine."
Spektor is a fog-wreathed suburb of Manhattan that doesn't appear on any map, where Pandora lives with her mysterious great aunt and the beautiful ghost of a Civil War officer.
The stories draw freely on the great classic black and white TV show The Addams Family, which began screening in 1964.
"My love of The Adams Family is clear in The Spider Goddess; there's even a Morticia in there as well although she's nothing like the character in the old TV series," Moss said.
"I've got The Skeleton Key planned, as the third Pandora English novel, which is due to be released next year and that won't be the last with Pandora either. I have in my mind a character arc for her and a real journey ahead."
She is planning several books in the series.
"Each one will reveal a little bit more about her and her family history and the powers that she, as yet, is unaware of.
"And more about the haunted mansion which she lives in and the supernatural suburb of Spektor and what that place really is."
Moss is also a huge fan of Charlaine Harris, who wrote the True Blood novels featuring Sookie Stackhouse.
"I'd like to think if Sookie met Pandora they'd get on really well."
She says there's currently a real love of the genre, but feels there always has been.
"Back in the 70's when Anne Rice put out Interview With The Vampire she really touched on the Zeitgeist in a way that people really felt for those characters and saw that something new was happening in the genre.
"It's a timeless story and it's re-invented every generation, I think for good reason, because people really find the supernatural fascinating and enjoy re-discovering some of the old folklore and the idea of immortality, the idea of good and evil and of nightmares and things that go bump in the night."
"It's a timeless idea and it's always going to be interesting even back to 1896 and Bram Stoker's Dracula there's been a fascination in these areas and I don't think that will ever stop."
- AAP