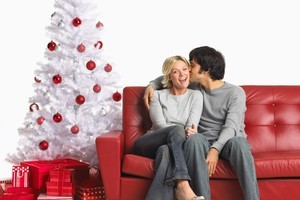 Kiwis are dreaming of whizzing about in jetboats, swanning around in designer clothing and bouncing on trampolines this Christmas, research shows.
The top 10 Trade Me search results for the past week show people across the country are picking up the pace searching for gift ideas.
Trade Me spokesman Paul Ford said people usually "go nuts" searching for festive presents from Dec 1 and were this year after a mix of perennial and new favourites.
"Things like Lego, puppies, and BBQs are traditionally popular, but this year we've seen cool stuff like scooters and jetboats zap into the top 10. People wrestling with what to buy their loved ones should take note that socks, handkerchiefs and soap-on-a-rope are nowhere to be seen."
Mr Ford said Apple's consumer electronics "dominated" once again, with iPhones, iPods and iPads at number one, and perennial favourite Lego came in at number eight.
The cute and cuddly option of dogs and puppies ranked at number four, and the figures also showed a fondness for fun in the sun.
"We're getting out and about this summer - kayaks debuted on the list last year and return in 2011. This year they're alongside jetboats, BBQs and trampolines. We're also seeing strong activity in water-skiing and wakeboarding, and it's good to see this attention for high adrenaline sport matched by strong interest in wetsuits and lifejackets too."
"The jetboats are an interesting one. Obviously they're a big ticket item and not everyone has that kind of money to spend, but maybe people are dreaming and being a bit aspirational this Christmas. I assume that there's been a few blokes giving a few hints to their wives and girlfriends."
Tupperware, gazebos, go karts and swimming pools also made it into the top 100 search results, he said.
Mr Ford said December was shaping up to be a strong cyber-shopping month. Trade Me recorded 1.6 billion page impressions last month, a 10 per cent increase on November last year.
But the searches don't end when the gifts are given, he said.
"Even on Christmas Day, people start finding things that they don't want that they've unwrapped, or maybe they've got two of them, or maybe the husband or wife guessed the wrong size and got a bit ambitious, they start re-emerging on the site.
"Last year one of the most popular searches in December was 'unwanted gifts', which is an indication that lots of people are looking and lots of people are listing gifts they don't want."
Top 10 Christmas searches on Trade Me in the past week
1.iPhones/iPods/iPads
2.Karen Walker/Trelise Cooper clothing
3.Scooters
4.Dogs/puppies
5.BBQs
6.Trampolines
7.Kayaks
8.Lego
9.Country Road
10.Jetboats
- APNZ