Make your own ornaments to save a bit of dosh and ignite your creative spark this festive season.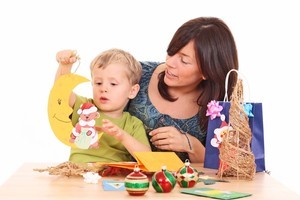 If your purse is bursting at the seams with receipts not cash, and the credit card is reaching its limit, steer away from those sparkling baubles and singing Santas and make your own Christmas decorations this year.
Here's how:
Materials
When choosing materials, stick to simple items suitable for children.
Khali Whatley, founder of the children's design blog little. lovely., suggests using paper products easily found around the home.
These could include plain and coloured paper, empty toilet and kitchen rolls, junk mail catalogues and used cardboard boxes.
"I'm really fond of using materials that we find around the home for craft projects because it's environmentally friendly, cost efficient and encourages creativity," Whatley tells AAP.
Her other must-have items include a glue stick; non-toxic, washable paint or coloured crayons and/or pencils; and child-friendly scissors.
"Using scissors is really great for children's fine motor development," the Sydney-based mum says.
"I was initially hesitant to let my kids use them because I was afraid they would hurt themselves (however) you can buy scissors that are child-safe so they can cut things like paper but not themselves."
For the glue stick, she recommends hard glue because it won't create too much mess.
If you want to really test your imagination you can use certain foods for material too.
"Uncooked pasta is great to paint, stick onto pictures or thread onto wool," says Whatley.
Cutting vegetables into shapes can also make great stamps, and Whatley suggests using potatoes or the base of a bunch of celery.
"My children love experimenting with different food items to see what they can create."
Projects
When finding a project for your child take into account their age and skill level.
"Toddlers aren't able to concentrate for extended periods or follow complex instructions so make sure the activity you choose keeps this in mind," says the former advertising director.
It's also important for mums and dads to encourage their child's creativity and not worry if the end product doesn't turn out correctly.
"Kids are inherently creative and may end up creating something entirely different from what you set out to make.
"Thinking outside the box will serve them well in later life."
The mother of Hunter, 3, and Charlotte, 2, says a fun and easy activity is creating artwork.
Parents can cut out shapes from paper and cardboard ahead of time and then small children can create their very own masterpieces by sticking them to a canvas. Painting will also never go out of fashion.
"Children love painting and if you buy a non-toxic washable paint you shouldn't have too many problems with mess," Whatley says.
To limit mess, Whatley gives Hunter and Charlotte a small amount of paint at a time, and also uses old glass jars as paint containers.
If you don't like the mess of painting, crayons and pencils are great, she adds.
"Invest in thick, sometimes called chunky, pencils or crayons as they are less likely to snap."
Other ideas she suggests include creating felt finger puppets to look like Santa and his reindeer, with the seams handstitched; paper-chain words such as "snow" for a Christmas tree garland; and raw pasta garlands using penne.
Eco-friendly crafts
Making craft eco-friendly is primarily about the materials you use.
Whatley, who started little. lovely. in 2009, suggests empty toilet rolls, scrap paper from around the house for collages, and even venturing outdoors for ideas.
Whatley and her children enjoy collecting fallen leaves from their footpath and decorating them with glitter and paint, and then creating a Christmas wreath.
"A lot of people think they have to go out and buy expensive supplies when using things from around the house is just as effective."
Tips for mums and dads
* When picking an activity take your child's age and skill level into account
* Always keep the activities simple because if they are too complicated children will likely lose interest
* Remember the fun is in the process; don't worry if your end product doesn't turn out the way you expected it to
* Be prepared: "I've found craft projects are always more enjoyable for my children, and me, if I've set out all of the supplies in the order they will be used ahead of time," says Whatley.
Source: Khali Whatley creator of littlelovely.typepad.com
- AAP