A new international makeup artist makes a Kiwi connection.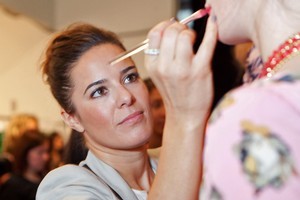 In a few months' time the world's makeup counters will play host to a new lipstick that made its début at Karen Walker's last New York fashion show.
The collaboration, between New Zealand's highest-profile designer on the international runways and Clinique's first global colour artist, Jenna Menard, is a yet-to-be-named punchy coral-red colour. For both Walker and Menard, who joined Clinique in May this year, having their show creativity turn into a big commercial cosmetic launch is a first.
"On Clinique's side it's very visionary for them to extend their range specifically to include the colour we created for our show and not something I'm aware of them having done before," Walker told Viva.
Menard is equally excited: the lipstick is the first of a likely long line of products she will be involved in developing at Clinique. One of the main reasons the go-getting 30-year-old American has been appointed to the role is her flair for colour. It is something she shares with Walker, for whom she has been makeup director in New York since September 2009, working on her collections each season since.
Though the runways of the world's fashion capitals are used by the likes of Chanel, Dior and M.A.C to launch or trial makeup, this is often more of a marketing exercise than a clear-cut case of a designer-driven show idea eventually becoming available to everyone.
The coral-red created for Walker was initially constructed by mixing pigments especially for the models wearing her northern hemisphere spring-summer 2012 collection in September. It has now been refined in the laboratory and will be a limited-edition addition to Clinique's Long Last Lipstick range from next northern spring, with a launch date for New Zealand to follow.
The women first got together on the recommendation of Walker's long-standing stylist in the US, Heathermary Jackson. She had worked with Menard on some Teen Vogue stories for Conde Nast and rated the work of the young makeup artist, who had quickly established a list of editorial credits and celebrity clients.
The respect is mutual, Menard enjoys Walker's love of colour and clear vision. "Karen Walker with Clinique made sense." The company and the designer had a similar aesthetic.
"They want their girls to be happy."
"What I like about Jenna," says Walker, "is she understands that we like our makeup to look fresh and street and not overly 'done', but to still look modern and have a strong angle and point of view."
Her own point of view is what the confident American hopes to bring to Clinique, a brand which is known for its skincare, but keen to make more of its makeup. Menard cites the likes of its innovative Chubby Sticks, a chunky lip balm pencil rated by Walker.
Part of Menard's job will be to make the public more aware of what is already on offer. Then there will be new products she helps bring to market. "I'm excited for what's to come."
It's less than a decade since Menard graduated from university with a psychology degree. Unlike many makeup artists she did not spend her younger years drawing or painting and says people who knew her back then, say: "What, you're a makeup artist?"
"I wasn't very involved with makeup in high school and wasn't a girly girl."
She was always drawn to colour, however, and from an early age would colour-code her closet. "My mom remembers a story when I was probably 6. I saw a baby in a car seat and said he was wearing makeup - it was the colour of his skin I noticed."
Being one of four girls, with an elder sister who works in beauty public relations, and a mother who runs a hair salon from home in Pennsylvania, awareness of appearance was intrinsic.
"I saw that people could be transformed by change."
While still at college, Menard started to do makeup for friends, then graduated to doing weddings during her term breaks. The positive feedback from people praising her calmness and for "making them look beautiful" appealed.
She slowly came to realise that she thrived on creativity, challenge and companionship. "I like working with people." Perhaps it was that psychology study that helped her to determine her hobby could well be her best career choice.
"Talent has to be there, you have to be good at makeup obviously, but you're working with photographers, celebrities, designers, so you need to get along."
Helped by her sister's beauty industry connections she was set up with a makeup artist from Vidal Sassoon for some rudimentary lessons, then she practiced by copying looks out of makeup great Kevyn Aucoin's book. In 2003, Menard made the move to New York to work on a movie, interning on the set of Stepford Wives.
"I got to watch about 30 makeup artists for two months do makeup for four hours every morning."
She learned and listened, following advice to forgo the gruelling hours of film for fashion.
Since then she has done editorial work, including Vogue covers, advertising, runway and celebrity makeup. Along the way she has worked with leading makeup artists such as Pat McGrath, Tom Pecheux and Dick Page; now she joins them in being contracted to a big cosmetic company.
"Not only do I have the artistry, I have the corporate."
Of stepping up so soon to a global role she says it was a natural progression. "I was ready for it."
Luckily the Clinique job enables Menard to also fit in the fashion week work she so enjoys and to keep tending to her regular celebrity clients, including Sofia Coppola, Uma Thurman, Amanda Peet and Kate Winslet. Though she does not say it directly, the down-to-earth English actress is clearly a favourite.
Time with celebrities is often of the essence. "You're often working together with hair, getting done as quickly as possible, often in their home or hotel." But because they are so image conscious, it is "more one-on-one than with a model".
Often the celebrity wants to look like they have done their own makeup, but sometimes they are keen for dramatic transformation.
"For the most part they want to look themselves, but a polished version."
Jenna's makeup lesson
When you shed layers for the season, says Jenna Menard, you should also consider a fresh new makeup look. "try a bright lip."
Her advice is right on trend for women wanting a bolder look this summer. "Even though you wear colour and print on your body, it doesn't mean you have to go neutral on your face."
For the Karen Walker show, Menard crafted a strong cheek and lip, knowing from experience that "Karen loves colour". She says the show look can translate for everyday by toning down the blush and blotting down the lip, keeping the colour strong but with a sheerer finish.
For women wanting to try the new "beautiful" bright coral-red Karen Walker-inspired Clinique colour, Menard says be patient, but consider using Long Last Lipstick in Red, Red, Red.
"It's a great colour, different, but the same formula."
With a global customer base to consider one of the development goals was "to make a coral that suited a lot of skin tones. Clinique is known for wearable colour."
Makeup should go with the flow, Menard says, meaning it should not be worn as a disguise. It can, though, be worn just for fun. She reckons women are increasingly experimenting and more would like to. She often hears women say they would like to wear brighter lipstick but fear it might make them look older.
"The trick is to do something to make it look more modern."
"Try a red, but in a version that suits you, or a stain, or blot it back."
Menard says online can be a good tool for women wanting makeup advice. She is developing a series of step-by-step guides for Clinique in which she promises that all the finished looks use only the stated products.
Among the first Makeup Made Easy videos are ones for creating Bright Eyes, Flawless Skin and Smoky Eyes.
"We've tried to break it down in a way that really shows you."
Karen's colour class
How does it feel knowing an international makeup brand is bringing out a lipstick based on a colour you used in your show?
Colour is a very central part of everything we do - apparel, eyewear, paint, and jewellery, so, working in the area of colour with Clinique is a natural move for us.
Explain how you came up with the colour and how it complements the collection.
I was very clear throughout the styling process that we needed a strong lip colour and had a very strong scarlet red with a lot of orange in it as my absolute preference. The [fabric] colours in the range this coming season are all quite bright with a lot of pink and yellow and we liked the way the scarlet contrasted in colour, but stayed true in terms of brightness and intensity.
We showed Pantone examples of the colour we wanted to use to Jenna when she came in for our hair and makeup trial and she felt we wouldn't find anything to fit that brief in the current range so she took our reference back to the Clinique lab where they created a colour to match from almost pure colour pigment.
What's your current favourite lipstick shade?
Of course I use a lot of Clinique. I especially love their Chubby Stick moisturising lip balms of which I have many and always have at least one in my handbag.
I also love Topshop Rio Rio [a scarlet red] and Topshop Desert [a flesh colour] which have been my two favourites for the past 12 months. Lovely dry finish, intense colour that lasts and lasts.
Is makeup a brand extension you've considered for Karen Walker?
We have done a makeup collaboration in the past with Boots in Britain which was a lot of fun and extremely successful, and it is definitely something we'd like to do again in the future with the right partner.
* Go to clinique.com and check out What's New, Latest Looks, Videos and click through for Menard's Makeup Made Easy tips.