It's hard to believe, but bonkers Ab Fab character Eddy is based on a real person, former PR guru Lynne Franks.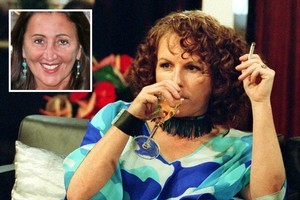 Patsy, Edina and the fridgefuls of Bolly will soon be hogging our screens once again, as three new episodes of Absolutely Fabulous are scheduled for Christmas time in Britain, with a film on the way.
Meet Lynne Franks, the bangled PR guru who kicked it all off - the "real-life Eddy" on whom Jennifer Saunders' Buddhist-chanting fashion monster is supposedly based.
"Jen never said it was based on me," she booms. "I mean, it is and it isn't."
Well, let's look at the facts, I say. There's the successful fashion PR firm - Lynne Franks PR - that you set up in the late 60s with clients such as Jean Paul Gaultier and Katharine Hamnett. There's the hippie spiritualism you follow, and the Buddhist chanting. The large house you used to own complete with chanting room and a basement kitchen. Tick! Tick! Tick! You were friends with Saunders and Dawn French in the 90s and you even have an embarrassed child.
Eddy's work style involves a lot of flapping and barking orders at blonde assistants, but Franks is relaxed and zen-like the day I arrive at B.Hive, her latest business venture. It's a chain of serviced offices for women only, where entrepreneurs can work or hold meetings.
"Now, I want you to be very honest. You're not planning to write a piss-take?" Franks asks, midway through a guided tour. We're standing beneath an elaborate chandelier in the ladies' loos - there are no men's loos - and I think she caught me smirking. My visit is a rare exception to the no-men policy. But there's no point parodying her. It's been done too well already.
And for all the Ab Fab larks, Franks is a successful one-woman industry. She's probably the most famous name in British PR, with past clients including the Labour Party, Live Aid, Swatch and Next. But what I really want to know is: is it true, when you're parking the car, you chant to Buddha for a space?
"Mm, yeah. I do believe that you can attract things in. I know lots of people who put positive traction out to get a parking space." Her son, stand-up comedian Josh Howie, once described life growing up as Saffy: "You'd chant for whatever you wanted. It was all very materialistic. Mum would chant for her clients to win work. I'd chant for a bike, and if I didn't get a bike, I'd say, 'Mum, I don't think this chanting thing works', and the next day I'd get a bike."
He also claims that, aged 16, he was made to live with American Indians and was renamed "Blackhawk". During his mother's hip-hop phase, she persuaded him he was black, but later treated him to a "psychic therapist" to rid him of the misconception. She also underwent a spiritual rebirth, and made Josh join her and a "midwife" naked in a spa bath for the ritual.
Bonkers, but she has calmed down now. "I was undergoing a spiritual journey at the time," she says. The Buddhism ended in 1992, when her life changed radically: in the space of a few weeks, she finally left her PR business, having sold it for £6 million four years before, divorced her husband of 24 years, Paul Howie, and moved to LA. But she still chants and dresses like an earth mother, all long flowing hair and wafty fabrics.
Howie has spoken of his hedonistic childhood, when his mum and sister would go to Grateful Dead concerts and hippies would make music in their home. Those days are behind Franks now, though she is still on the London fashion scene. Today, she looks happy and healthy, and at 63, her drive is still there. "Achieving more for women is my passion, and I will continue to work towards that till the day I die," she says.
Was it hurtful, I ask, to have a successful career publicly savaged by an old friend? "It was hurtful at the time," she says. "They don't take the piss out of the women's stuff. They take the piss out of the fashion stuff and the spiritual thing. But there are no hard feelings."
According to Josh, the idea for Ab Fab came to Saunders after she stayed with Franks at her villa in Deia, the hippie writers' retreat in Majorca. This was another hub of frantic social activity, where Franks held wild house parties. Has Saunders ever apologised?
"No, as she never accepted that it was based on me. And I know for a fact that it was an amalgamation of different people. It was a parody of a time. I don't want her to apologise."
Franks says she was even asked to be on the first series, but she was "all hoity-toity about it" and wouldn't. "I wish I hadn't been so huffy about it. I was going through a huge change, and I couldn't laugh. I was more like, oh my friends are stabbing me in the back, rather than taking it as it was. You know I am larger than life, and I do do eccentric things, like hug trees, and there's loads of stuff in Absolutely Fabulous that I think is hysterically funny. I would love to be on the show now."
It's rumoured the new episodes will see Edina trying to become a celebrity herself, and Patsy running a private members' club. Proof, if any were needed, that Franks is still a source of inspiration: in 2008 she appeared in the jungle on I'm a Celebrity ... Get Me Out of Here!, and B.Hive is for members only.
She doesn't see Saunders much these days, and in some ways, like the voice, she's not at all like Edina. She says she eats too much and would choose a plate of bangers and mash over a bottle of Bolly. And only once does she bark instructions at an assistant, whom she calls "darling", but not "sweetie".
- INDEPENDENT