Support independent creatives by Christmas gift shopping at local craft fairs and pop-up stores.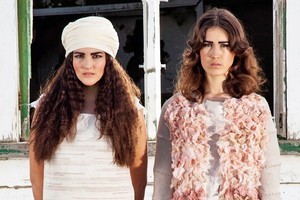 With the Christmas shopping season upon us, independent creatives are offering their unique wares directly to the consumer with pop-up stores, workroom sales and fairs happening weekly.
Which would you prefer: a busy mall, or a small space featuring carefully selected product made by hand and with love?
Le POP is one such creative independent concept, opening this Friday in Auckland.
Recent Massey University fashion graduate Grace Cryer is one of the faces behind the week-long pop-up store, organising it in her spare time when she hasn't been interning at Karen Walker online. She describes the store as a mixture of a classic art exhibition and a pop-up store, showcasing the work of up-and-coming designers you won't find elsewhere - with a mix of men's and women's fashion, art and homewares.
Like most things creative, it is a collaborative effort, Cryer working with friend Sigrid Davis and enlisting the help of other creative friends such as graphic artist Ella Hampshire-Perks and fellow students.
"Studying at Massey University meant I was surrounded by many amazingly talented individuals from each different design discipline," says Cryer, who approached fashion students she deemed ready to put forward a commercial collection.
"I wanted a good balance of men's and womenswear, and a good selection of accessories, so you could take pieces from any of the designers and wear them together."
Available from the store will be clothes from The Company We Keep by Hawkes Bay-based designer Madeline Lawson, Open End, a collaboration between two male designers based in Wellington, Blair Hetet and Darwin Brooks, and Cryer's own label Summer Basics, a small collection of basic printed shorts for men and women, plus simple printed linen dresses and tops. Alongside this will be jewellery from Painted Pony, designed by Melbourne-based Nicki Manthel (Cryer's mother), a plastic handbag range by Wellington-based Jacque Shaw, printed linen cushions by BEST & Friend, plus prints from artists Jake McCartney and Fiona Treweeke.
"I love how everything fits and goes together, and that it covers all the bases of what I know people will love," says Cryer, who hopes to put together a winter version of Le POP if the summer store goes well.
Other worthwhile sales to check out this weekend? A workroom sale from designer Katie Battersby, known for her unique handmade approach, with new season stock, samples and seconds for men, women and children from $30. And the Auckland Art & Craft Fair on Saturday, where more than 80 local independent designers, artists and crafters sell direct to the public, with organisers of the fair focusing on quality, craftsmanship, creativity and style. As they explain on their website: "You can purchase direct from the seller, knowing that you are supporting our local talent and you will be taking home a special piece that has soul".
Shop it
Auckland Art and Craft Fair:
Saturday, December 10, 11am to 3pm. Aotea Centre, City. Gold coin entry donation.
Katie Battersby workroom sale
Friday, December 9 (9am-4pm) and Saturday December 10 (9am-3pm). 40 George St, Kingsland.
Le POP
Open from December 9-18. 5a Flower St, Eden Tce.