They may sound good enough to eat, but these goodies are strictly nil by mouth.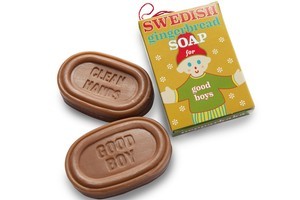 Timely reminder
Hang this moreish little box of soap on the tree and make sure the little ones read the message imprinted on each sweet-smelling cake before Christmas dinner. The Swedish Gingerbread Soap for Good Girls (or Good Boys) costs $14.95 and on one side instructs "Clean Hands" and on the other says Good Boy (or Good Girl). Find these and other nifty little gifts online at Isabel Harris or Teed St, Newmarket.
Spiced up selection
Each year The Body Shop brings out seasonal fragrances: this year it has added Candied Ginger to the Christmas line-up of old favourites Cranberry and Spiced Vanilla. Try this delicious addition to what is the chain's top-selling item, a generous tub of Body Butter for $36. The limited edition items also include festive tins of lip balm for $12.
Tinny find
For a perfect little hostess gift or stocking filler, Sohum solid perfumes are a treat. They're affordable and enticing in a range of scents and coloured tins. We show Sohum Caramella Perfume Balm $36, but there are more familiar fragrances such as Tuberose to select from at Isabel Harris.
Berry nice
Nut oils and antioxidant-rich berry extracts help replenish skin in Grown's Body Cream Intensive with Rosa Damascena, Acai & Pomegranate. Mature skins will lap up this indulgent offering which is available in two sizes, 120ml for $34.95 and 500ml for $59.95 from Smith & Caughey's, selected Farmers and pharmacies, for stockist details see here.
Nuts about it
This Roast Chestnut candle from Jo Malone is the perfect addition to a traditional Christmas table setting, or just use it to bring a warm aroma to your home. The limited edition fragrance is new this season, and seems set to prove as popular as the annual outing of her Pine & Eucalyptus range. Deluxe-sized candles cost $275. Roast chestnut is also available in the Travel Candle Collection, a gift box trio of mini candles for $175, which also includes the aforesaid Pine and the popular Pomegranate Noir fragrance. From Jo Malone, Britomart, or ph orders on 0800 506 7470.