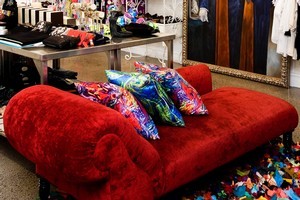 Julianne Davidson is behind concept store The W Room on Ponsonby Rd. Stocked with fabulous things - from fashion to accessories to candles - that Davidson finds on her travels, the store joins her Remuera boutique, which opened earlier this year.
By constantly changing styles, Davidson aims to keep the range exclusive and will limit stock to a maximum of 12 pieces available in one style. "I have no formal training in fashion which I believe is an advantage, as I live my life by the things that inspire me," Davidson explains. "I am very much a visual person and I buy the things that I love, not necessarily what is considered high fashion."
Why did you decide to open boutiques?
I opened a boutique as it allowed me to range my entire collections - women's and children's clothing, shoes, bags, jewellery, candles and accessories. We knew we had many customers around the Ponsonby, Herne Bay and Grey Lynn areas and, after a very successful opening of our first boutique in Remuera, the next logical location was Ponsonby.
What makes your stores unique?
I have brought together an eclectic mix in the boutiques catering to a range of women and girls. I offer pieces that take women from day to night and offer lots of colour, in plus sizes also. I also love the vintage look, soft white voile and 100 per cent cotton, whimsical pieces featuring embroidering and detail. This mixes well with our denim ranges which I source from Los Angeles. Customers like to walk out with a whole new look and we can do that with all the fabulous accessories and shoes, as well as the fashion pieces. Our resort wear is also popular as people are travelling all year round and want easy pieces they can pull out of their suitcase and throw on and feel great in. I have also started designing myself and have launched a range of dresses, called Dilly D (named after my eldest daughter Dillion), using fabrics selected in America. I also offer fashion pieces for teens up to 14 years, which as a mother I found hard to find. Most importantly, our staff are all about making our customers feel special when they come through the door.
What do you love about the LA style?
I travel to LA every 10 weeks and I love the vibe. It is alive and uplifting and I feel inspired when I am there. I love that it offers a great experience, from the funky West Hollywood hotels and fabulous restaurants to fashion and architecture. LA is a great city to people- watch as it's so cosmopolitan, and the locals have a great sense of style - effortlessly casual but stylish.
How does the LA look fit Auckland?
We live a similar lifestyle - we love the outdoors and are predominantly casual in our approach to dressing compared to European countries or the east coast of the States. This is the look I offer, layering gorgeous pieces and having fun, without spending a fortune.
What will we find in your wardrobe?
My wardrobe is full of more clothing and shoes than you can imagine. My husband has been kicked out of the wardrobe!
Who will love shopping at your stores?
I make sure the shapes, colours and styles I select will suit lots of women.
What's with the monkey painting?
The painting is inspired by a hotel I stayed at in LA. I commissioned the artist to produce two more variations of the monkey; female and male, and these are now in the first two stores. I am trying to create an international and glamorous feeling in the stores.
The W Room, 66 Benson Rd, Remuera, and 100 Ponsonby Rd, Ponsonby.
Stand-alone stores
Pandora has opened its first concept stores in New Zealand, within Westfield's malls at 277 Newmarket and Albany. Each will stock the full range of charms and other collections from the Danish jewellery brand founded in 1984 and now selling in 55 countries. Australasia has proved a particularly receptive market for the individually customised jewellery. "While the bracelet is already popular, there are many other lines, including watches, necklaces, beautiful gold and silver rings with sparkling gemstones and much more," says Pandora's New Zealand manager, Lindsay Evans.
They won
The designers behind Hamilton-based label Nyne were last week announced as New Zealand's top emerging fashion exporters, taking out the top prize in the 2011 DHL Express Fashion Export Scholarship awards. Jacob Scott-Simmonds, Miranda Scott-Simmonds and Tina Patrick were selected as the winners by Nom*D's Margi Robertson, Kim Crawford co-founder Erica Crawford, DHL Express' Megan Wildermoth and Mapihi Opai, executive officer at Fashion Industry New Zealand (Finz).
Parnell shines
Parnell's Christmas tree lighting ceremony mentioned in Viva last week was delayed a week due to high winds hampering the decoration of the giant Norfolk pine set to be a permanent beacon over the shopping strip. Family fun and festivities will now be held this Friday from 5.30pm-8.30pm.
Santa in situ
Forget shopping centre grottos, how about a visit to Father Christmas in his very own lounge room, decorated with photographs of his favourite reindeer? Smith & Caughey's Christmas Wonderland tucked away on Level 6 of the Queen St store provides a home-away-from-home for the bearded gent who is back in town. You can pay a visit and enjoy a tour of Christmas toys and a chance to put in your requests. For $10 you will leave with a photograph and a small gift. On the way out, don't forget to check out the new Food Hall on Level 3.
Growing up
Graduate fashion shows keep getting better, and more professional, with strong collections presented at the Whitecliffe College fashion show recently. Madeleine Harman presented her graduate collection, Bones, which featured a bag designed in partnership with local accessories label Saben. Harman was chosen as the winner of a Saben/Whitecliffe design collaboration competition, and came up with a quirky textured leather handbag design that worked with her collection - taking design inspiration from a paper bag.
We also loved Jessica Grubisa's collection, Rags to Riches, which examined the ostentatiousness of wealth, and featured intricately bejewelled dresses and shirts, tailored suiting, and crowd-pleasing sweaters and jackets made, unexpectedly, out of festive tinsel.
Cartoon chic
Collaborations are commonplace in fashion nowadays, so we like it when two creative talents unexpectedly join forces - like Comme des Garcons' Rei Kawakubo and The Simpsons' founder Matt Groening. Their collaborative T-shirt collection is based on Blinky, a depressed rabbit, and Sheba, his ex-girlfriend, two characters from Groening's 1977 Life in Hell comic series. Selected designs are available now at Fabric boutiques, including this one covered in speech bubbles, and featuring the iconic Comme Play heart. Comme des Garcons Play x Matt Groening "Black Sketch Heart" cotton T-shirt, $195, from Fabric. Ph (09) 366 4528.
On the wedge
Add some colour to your summer wardrobe with Ziera's bold pink and black wedge - a new colourway of their popular "Heather" style $209.99.
Helping hand
If you're in a spin about what to buy people this Christmas, consider helping a charity by sourcing ethical gifts that give something back to those in need. One such example is Spinning Top, an organisation that helps support vulnerable children in developing nations. With gifts priced from $1.50 to $165 there is something for every budget and you can shop online or in store. We like the cute New Zealand-made wooden spinning tops for $10 (available at The Body Shop) or limited edition jewellery made from recycled wood and available at Starfish boutiques. The Body Shop is also offering gift tags and cards designed by Tanja Jade (aka Misery). There are also bags made from recycled billboards or you could contribute money to buy rice or gardening goods for children.