Greig Morgan's gone fishing - this time with a rod from his neatly built rod-holder.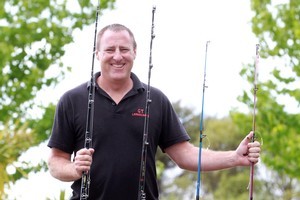 Summer holidays are nearly here and, like many Kiwis, I can't wait to get out and do a decent bit of fishing.
Every year I say to myself: "I've got to make a fishing rod-holder to protect my rods from getting damaged", and now I've finally got around to it.
I chose to make mine from macrocarpa sleepers. They're strong, and give a nice rustic look.
The beauty of making your own rod-holder is that you can add extra holes, and fill it with new rods as the years go by.
Step 1
Measure and cut a length of 200x100x2.4 base timber to 1050mm long. Measure and cut the 200x50x2.1 top timber to 1050mm long, plus an additional two pieces at 170mm long.
Step 2
To make a strong fixing you will need to make a notch about 10mm deep in the base and the top for the spacers to fit into.
With the base and top, measure in 50mm on both ends, then place the spacer to the mark and scribe a line on the other side of the spacer.
Step 3
Using a sharp handsaw or skill saw, cut along the lines to the 10mm depth. Using a sharp chisel, tap with a hammer to notch out between the cut lines. Make sure the notched-out timber is even for a good glue bond.
Step 4
Make holes to fit rods. Place top and base on top of each other with the notched out pieces facing each other. Measure in 150mm from both ends, then mark 250mm centres, and 60mm in from the back edge. Using a 35mm drill bit, drill the centre of the marks. Bear in mind to drill through the top piece but only 25-30mm deep into the base.
Step 5
Run glue in the notched out top and base pieces, and on the top and bottom of the 170mm spacers. Place the spacers in the base and rub the spacer back and forth to give the glue a good bond before you sit it flush. Now sit the top piece on the spacer and rub back and forth. Make sure the holes line up top and bottom.
Step 6
Place something heavy on top of your rod holder to secure the glued joints, then wait for them to dry. Plane off the sharp edges, then load with your rods.
Materials
1 macrocarpa sleeper
200x100mmx2.4m long (base)
1 macrocarpa sleeper 200x50mmx 2.1mtr long (top and spacers)
Exterior wood glue
Tools
Skill saw/sharp
handsaw
Builders square
Chisel
Hammer
Tape measure, pencil
Drill, 35mm drill bit
Hand plane