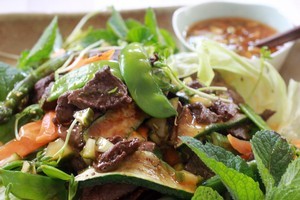 1 Marinate the stir fry-cut venison in a little oil mixed with crushed garlic and grated fresh ginger.
2 Blanch some snow peas and asparagus spears.
3 Ribbon some peeled carrots with a potato peeler. Slice some courgettes into long strips and marinate in a little oil.
4 Make a base of crispy iceberg lettuce, chopped coriander, mint and spring onion.
5 Quickly cook your meat and courgette strips on the barbecue or in a wok. You may need to put a piece of tinfoil over the grill unless you have a solid plate on the barbecue, or the meat slivers tend to fall through the grill and incinerate.
6 Top the salad with grilled courgettes and stir fry. Splash with a mix of sesame oil, fish sauce and light soy and if you like it hot, a finely chopped red chilli.