Raise a few glasses to festive fun with a gift you can share, says Don Kavanagh.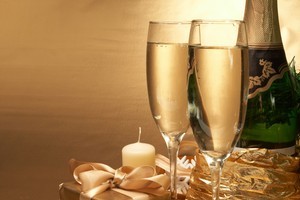 It wouldn't be Christmas unless you were scratching your head trying to think of presents for those notoriously difficult-to-buy-for people - basically, everyone.
What could be better to soothe the festively furrowed brow than a nice glass of something? And a bottle will do very nicely indeed, thank you.
For years, I would tell anyone who listened that I wanted a bottle of whisky for Christmas, but do you think anyone took any notice? These days people do believe me and consequently I do rather well out of Christmas. Many of your nearest and dearest will appreciate such presents, but the only problem is what to buy. The following ideas should help you along without drawing withering stares and forced gratitude from the recipient.
Beer
Kiwis love beer, but simply going to the supermarket and picking up a dozen of some generic, European-style lager isn't really the thoughtful way to buy it. With so many great beers made here in NZ (and many more imported) there is no excuse for wrapping up a slab of dull draught.
Check out the gift packs from smaller breweries, which feature beers in different styles. These offer variety to the lucky recipient. Tuatara does good gift packs and they are pretty easy to find in supermarkets and decent liquor shops. There is also a nifty pack of Belgian beers on sale, featuring Stella Artois, Hoegaarden and the Leffe range.
The alternative to variety is volume and some lovely bigger bottles are on the market now. Grolsch has a nice swing-top magnum and Moa also has wonderful big bottles of fine ale.
Wine
Oh, boy this is a toughie; with so many great wines available across so many styles you may be best to simply take pot luck here, but some labels never disappoint, especially if you're buying for someone who is into their wine.
Great bargains can be had in the bubbly sector, for Champagne and domestic brands. Big names like Mumm, Moet and Veuve Clicquot have been spied on special at attractive prices but, for something different, try to dig out some Charles Heidsieck non-vintage. It's a lovely, elegant Champagne. If you really want to spoil someone, Billecarte-Salmon is a glorious drop, too.
Among the locals, it's hard to go past Deutz for sheer consistency, but most styles from No1 Family Estate will go down well with even the toughest critic. It would be remiss not to mention my all-time favourite NZ bubbly, Johanneshof Estate's sublime Emmi. It's not cheap but it's astonishingly good.
In the still wine categories, it's probably best to buy something you know the recipient likes. For chardonnay, it's hard to beat labels like Kumeu River, Clearview, Te Mata, Neudorf and Palliser, and sauvignon blanc lovers will be more than happy with anything from Cloudy Bay, Greywacke, Lawson's, Vavasour and Saint Clair. Riesling is a lovely drink in summer and goes brilliantly with food. Seifried and Johanneshof make excellent examples, as do Escarpment and Forrest Estate. Gewurz fans should look for Vinoptima or Brancott Estate's Patutahi "P" label.
Red wines that are sure to please include pinot noir from Mischa's Vineyard, Ata Rangi, Palliser, Cloudy Bay and Bannockbrae, although most pinots from Otago and Martinborough are pretty well faultless.
For beefier reds, look for Hawke's Bay labels like Te Mata, Esk Valley, Church Road and Brookfields for cabernet blends and syrahs. Matua Valley is doing an excellent single vineyard merlot at present, which is - again - pricey but worth it.
And if you want to buy someone a dessert wine, the glorious Seifried Sweet Agnes is a symphony of sweetness in a bottle.
Spirits
Whisky drinkers are easy to please, generally. Because whisky drinkers tend to have one absolute favourite, it's best to aim for all-rounders that stand up well to most palates.
For malts, the likes of Ardbeg, Laphroaig and Highland Park always go down well, although Springbank is probably my favourite, especially the 15-year-old version.
Irish whiskeys worth buying include Jameson 12-year-old and old standby Black Bush, and it's good to remember that if you're buying a blended whisky, Johnnie Walker Black Label is donating $2 from each bottle to Christchurch's rebuilding effort.
No Bourbon drinker will cock a snook at the lovely Maker's Mark, but some really fascinating smaller labels are available. Just remember that classic labels like Jim Beam and Evan Williams are always solid and, in the case of Jim Beam Black, often spectacular.
For vodka buyers, it's best to go with the safe-but-stylish options and the likes of Absolut, Smirnoff Black Label, Russian Standard and Grey Goose will find favour on any shelf.
Gin is a different story, though, and it's advisable to make discreet inquiries before splashing out on a bottle.
Someone who is used to Tanqueray may not appreciate the cucumber notes of Hendrick's and fans of the rounded sweetness of Bombay Sapphire may not take as well to Beefeater's more austere dryness.
If you're giving tequila this year, avoid the obvious. Some lovely, if expensive, tequilas are available, such as Don Julio, Herradura, Patron and Casa Noble. The Casa Noble Reposado is a real stunner.
Rum drinkers are also well catered for, with reliable names like Matusalem, Havana Club, Cruzan, Mount Gay and Angostura all popular .
So, there is no shortage of options - a drop of Christmas cheer will be deeply appreciated. Just remember that Christmas can be a stressful time, so overindulgence is to be avoided.