Parks on the city's fringe lead Cate Foster on a long and winding ramble.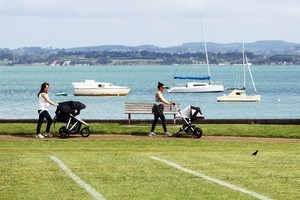 Although Auckland's inner west may be best known for urban trendiness, it's also greener than you may think, and I mean that in a leafy way.
One fine Sunday morning we traversed it from end to end along connecting green walkways.
Starting outside Oh So Cafe in Crummer Rd, we trotted up Ariki St, crossed Williamson Ave and down into Grey Lynn Park. Past the pre-schoolers' playground, skate ramp and toddlers' pool we marched, skirting the empty playing fields where Grey Lynn Festival sets up camp in November and past the sculptures at the northeastern corner that have appeared over the years.
Somehow this park has a mood like no other - bohemian, just like its neighbourhood. It's not terribly pretty, but it's not run-down either, it just has a bit of everything.
Leaving the park at Dryden St and heading north, we entered the little-known Hakanoa Reserve with its winding paths. A slight zig-zag left took us into Westmoreland St West via a path beside a row of townhouses.
This entry point had to be shown to me or I would have ended up in a dead-end at the pensioner flats, so it's worth looking with care at this point.
Almost opposite Woolworths, we crossed Richmond Rd and took another zig-zag right and were on the boardwalk of Hukanui Reserve leading to Cox's Bay Reserve.
It's hard to imagine the open spaces of this green and pleasant playing field were a rubbish dump not so long ago, and so heavily polluted that the shellfish in nearby Cox's Bay have not regenerated to this day.
Reaching West End Rd and risking wet feet we crossed and walked down the steps and on to the mudflats of Cox's Bay. Someone pointed out the quicksand between the steps and the bluff at the foot of Herne Bay Point where a friend had once almost buried himself, so we skirted this to walk on hard muddy sand to the base of Garnet Rd.
At the crossroads by the famed Westmere Butchery (where the sausages are out of this world ) we debated our options. We decided our route back would be via Hukanui and Bayfield reserves and up on to Ponsonby Rd for window shopping.
So back east we went, up past Kelmarna Gardens on Hukanui Crescent where organic veges are sold (serious shoppers, please call first), down Kelmarna, along Trinity and a few more zig-zags until we reached Tole Reserve at the Clarence St entrance.
Bounded mainly by private homes and the Ponsonby Community Centre, this tucked away green space is as local as they come. It was too early for teenagers to be in the skate park, but toddlers stumbled with bleary-eyed dads, an orange cat glowered from a fence post at a brindle dog - this is Ponsonby real.
We wandered along Ponsonby Rd for half an hour, admiring clothes we would probably never buy, and boots I definitely would, and found ourselves back at Oh So in Crummer Rd. Coffee tastes extra good after a few hours' exercise.
Take a walk

Oh So Cafe: 29 Crummer Rd, Grey Lynn, ph (09) 360 0700.
Kelmarna Organic Gardens: 12 Hukanui Cres, Herne Bay/Grey Lynn border, ph (09) 376 0472, open 9am-5pm most days.
Westmere Butchery: 131 West End Rd, Westmere, ph (09) 376 5954.