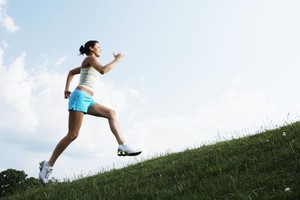 I'm utterly transfixed by the picture of the woman in the running magazine.
She's pretty regular looking, albeit toned, healthy and at least a decade younger than her 48 years.
It's the slew of finishers medals hung around her neck and off her arms that really gets me.
I'm guessing it's just a fraction of her haul.
American runner Yen Nguyen has clocked up an average of two marathons or ultra-distance runs a month since she began running in 1996.
In September her tally of marathon-plus runs hit 400. I think that would be roughly equal to the number of Milky Bars I've eaten over the same period.
Talking to Runner's World magazine, Nguyen, who left Vietnam as a 12-year-old in 1975, said running was not a choice until she went to America.
"During the war, we were constantly in fear. This sport has taught me what freedom really means."
Flicking through the same issue and there's Red Hot Chili Peppers guitarist Flea, or Michael as he's know to his mum, talking about how running gives him "divine energy".
"I love when an hour or two into a run something opens up and I feel divine energy flowing into me.
"I try to send the energy all over my body."
The recent running convert, also 48, said running "opened up something beautiful" in his life.
"One of my favourite things about running is the meditative aspect about it.
"Sometimes I get into a place where there's no thought at all - it's just movement - and that's a really profound place to be. And that's enough for me."
Ok, so a magazine aimed at runners is always going to have a pretty upbeat message about the sport.
But closer to home Kiwi actress Kate Elliott told NZ Herald's Canvas magazine that exercise, particularly running, had replaced drugs and alcohol as her high of choice.
"I guess what I got out of [drugs] is a release, an escape or a blow-out. I'm learning that I can find that release through other avenues. I get super-high on endorphins after I've worked out. And those are the best things to get high on, in my opinion."
She now runs 7km a day, making a dash up Mt Eden a regular part of her life.
It's all inspiring stuff. Well, I'm inspired anyway.
Life has been pretty busy of late. With two littlies, the youngest just nine months, and a plethora of other responsibilities I just seem to be muddling along.
I'm after that break, however small, to clear my head, meditate on the day and recharge the batteries.
It's that drug-free high Elliott dabbles in.
It's funny to think that expending energy - and right now I don't feel like I have energy, divine or otherwise, to burn - could in fact boost it.
I'm starting from scratch as it's definitely been a long time between sprints.
Having run on and off in what now seems like the prehistoric past I'm looking to make it part of the weekly, if not daily, routine.
I can't lay claim to any talent, but bang for buck, running hits the mark for me: It doesn't take up a lot of time like, say, golf; it's low tech and I don't need to shell out for any fancy equipment; there are no upfront membership fees; and potentially I can even take the kids along.
I'd be lying if there wasn't also a degree of vanity.
Teetering on the cusp of middle age and with a couple of pregnancies under my belt it's fair to say muscle tone and I are no longer on speaking terms.
If the feel good factor can extend to getting back into my fave pre-pregnancy clothes with some sense of dignity then that's a bonus.
My goal though, at this stage, is just simply to get going.
New Zealand running coach Arthur Lydiard said he wanted to see the whole world running.
It's a philosophy that inspired Lydiard Marathon founder and double-amputee Ian Winson.
Winson, who is currently recovering from the loss of both legs in a blast that took the life of co-worker Philomen Gulland, told media at this year's event people should get out there and "take your legs for a walk because you don't know when you are going to lose them".
"Just get out and have a walk, a walk might turn into a jog, a jog might turn into a run."
This blog will record my progress from first plodding steps, jog to run and beyond.
I'll also be tapping a few experts along the way to give me a bit of guidance.
Who knows, I could be joining Winson at the start line of next year's event.
Event diary:
* Auckland's downtown streets will be the venue for the Sculpt Women's 6k run and walk event. 9am Sunday December 4, Gore St, Britomart.
* Raise money for KidsCan with a 2-3km dash down the street in a Santa suit, which is included in the entry fee. 6.30pm Wednesday December 7, Whangarei, Auckland, Hamilton, Tauranga, Wellington, Christchurch and Dunedin.
* The tough nuts will be out in force this weekend running either the 60km Kepler Challenge on the peaks behind Lake Te Anau or The Goat 21km run (scramble?) around the side of Mt Ruapehu

- HERALD ONLINE