Meet the talented pastry chef behind Newmarket's newest bakery.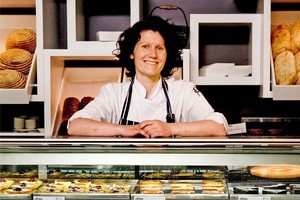 We all love a Danish pastry, even more so when it's made fresh in front of us by an acclaimed Danish pastry chef. Elske (Danish for "to love") in Newmarket is the brainchild of Kristina Jensen who bakes everything from ryebread to croissants to traditional Danish pastries in full view of the adjacent cafe. Grab a fresh loaf of bread to take home or sit down for a cup of coffee and a French beignet or perhaps a ryebread sandwich with salmon gravlax and pickled cucumber, and savour that something special that happens when food is made from scratch.
So, you've worked in Michelin-star restaurants?
I trained as a pastry chef in the best pastry shop in Copenhagen, The House of Marzipan. In Denmark it takes three years if you are already a chef, which I was. So to keep the chef in me alive, I worked for free in a restaurant called Godt, which had one Michelin star. The restaurant was owned by an Englishman called Colin Rich. He thought London would be a good place for me to go and better myself as a pastry chef.
Straight after finishing my pastry apprenticing, I went to London and worked for the Berkeley hotel. After a year in the pastry kitchen, the head chef sent me to see Albert Roux who is one of the best chefs in the world and trained Marco Pierre White and Gordon Ramsay. He paid for me to go and work in the two-star Amstel Hotel in Holland, Amsterdam. After that I went to Sydney where I met my partner Sean Marshall.
What has it meant for your career?
I am a better pastry chef as a result. I only want the best and will do anything to get that out of my staff. I love detail and don't like to skip any corners.
How long have you been in New Zealand?
Seven years now. Sean (head chef at new venues The Roxy and The Everybody's) and I had a little restaurant and bakery on the Kapiti Coast north of Wellington for three years called Ambrosia. When I became pregnant with twins, we sold them both and I worked part-time in a cafe when the twins were small. Then in 2009 I started at the Matterhorn restaurant in Wellington as a pastry chef. I worked nights so I could still look after my twins.
When Matterhorn was bought by Pack & Company, they liked my pastries and bread so much that we all thought Elske would be a good idea.
Tell us about your new bakery Elske.
Elske is a European patisserie and bakery where we're all about using the best ingredients and doing things the old-fashioned way. We don't use any additives. I have a big problem with all the bad white bread around these days. People feed it to their kids and then wonder why they get bloated and fat.
What are the top sellers?
We sell a lot of Danish rye bread, handmade pastries and cakes.
Anything else you'd like to add?
I'm not a trained baker, but I really like good bread. I am a chef and pastry chef by trade. I'm still learning everyday, that's what is so good about bread - it keeps me on my toes. My favourite pastry is a pain aux raisin, along with apple strudel. And I eat sourdough bread every day with my kids.
* Elske, 27 Kingdon St, Newmarket. Ph (09) 524 6253.