Find more restaurant reviews with our Google map
Address: 150 K Rd, Auckland Central
Phone: (09) 377 2870
Rating: 8/10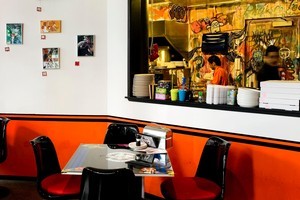 Welcome to the Hard Luck Cafe," says the menu of K Rd's latest eatery, "the anti-restaurant".
There's not much need to spell this out really - the Hard Luck, headed up by Robi Smith and Wylie Dean - the tattooed guy from TV's Monteith's Wild Food Challenge, is decked out with a real skull and crossbones aesthetic, so it's pretty obvious you're dining somewhere on the alternative side of things as soon as you walk in the door.
But don't be intimidated by the cool cat rockabilly décor and hipster clientele of this cafe which purports to be the place where street food from around the world has found a home - the staff are friendly, the atmosphere relaxed and fun, and most importantly, the food and drinks are very good.
Part of the new Ironbank complex, the Hard Luck has stamped its personality all over the glass-fronted space it occupies on the part of the K Rd strip across from St Kevin's Arcade.
There are loads of cool touches throughout - its glass-topped tables are perched atop 1980s video arcade machines, support pillars are covered in leopardskin fabric (so bogan chic) and there is a light sabre in pride of place over the door leading to the loo. Space invader and rose decals adorn the glass walls and there is contemporary urban Kiwi art and Dickies clothing for sale.
A telly behind the wooden, home-made looking bar under which the beer kegs sit in full view is tuned to C4 but the music playing throughout is Metallica, The Kills and AC/DC, and there is a huge pile of outdoor bean bags in the complex's covered area on its Cross St side.
The mouth-watering list of cocktails are too good to pass up post-work on a Friday night, so we get in and sample a decent selection. One of the girls has tried and swooned over the Sloe Gin Sour before but it's so popular they're all out of its ingredients. Instead we opt for a watermelon margarita, the Hard Luck Candy with vodka, palm sugar, ginger beer, fresh limes, sake and a twist of cayenne pepper which really kicks you in the ass, and the Kiwi Mule with vodka and De Kuyper Sour Rhubarb liqueur muddled with fresh limes and topped with ginger beer, which tastes like"summer in a glass" according to its happy drinker.
The Hard Luck's menu isn't huge - and you'd hope they change it up every few months for variety's sake - but it does cater well for vegetarians and there's even a pizza for vegans (the Cry Baby, with roast pumpkin, sun-dried tomato and pinenuts).
The best thing to do here is order a few dishes to share. The "street food" is mostly American diner-style tex mex though there are a couple of Asian elements in the "goody too shoes" part of the menu, like coconut fish and melon salad and nori rolls.
The staff member who brings out our food is kitted out in a black Hard Luck tee and orange boiler suit. The presentation is all part of the fun here and they've nailed it, down to the tomato sauce dispensers in plastic guns.
The "Dirty Bird" chicken comes in a little silver bucket accompanied by an even smaller bucket of aioli, and is served on a miniature dart board on a fake money bill stabbed with two darts. The simple lightly fried chicken is tender and juicy and given some extra zing when dressed with the accompanying fresh lime.
The Mr Potato Head pizza is on a light but fluffy crust which is heavily covered with caramelised onion and topped with rosemary and potato. The texture and sweetness of the onion cleverly complements all the other ingredients on the pizza, especially the potato and rosemary, which we know already are a match made in heaven.
Slyders (mini burgers) have been popping up on quite a few Auckland menus lately and the Hard Luck's haloumi version (two burgers) is packed with flavour from its garlic sauce and coleslaw with mint mayonnaise. Unfortunately the savoury taste of the squeaky cheese gets a little lost with all these other strong flavours, especially the garlic, which is a bit of a shame as it's one of our favourite foods.
The tiniest of tiny pegs holds together our two soft-shell crab soft tacos which come with a smoked tomato salsa. Soft-shell crab is not that common on Kiwi menus but the sweet and tender crab, usually served deep fried, is a delicate treat. Here the smoky salsa really takes over the flavour of the meat, which gives it quite a different - but not unpleasant - taste. All of our dishes were simply but thoughtfully constructed with strong - almost overpowering at times - lime and garlic flavours.
This was enough food to fill three of us - in fact we were chocka - but we were determined to share one of the Cake and Shake desserts.
Tonight's version of this seriously decadent and delicious treat is made up of a dense, moist banana muffin topped with cornflakes and bits of chocolate biscuit served with an caramel icecream shake. We're glad we decided to share as we would have struggled to finish one each without sliding into a diabetic coma.
The Hard Luck Cafe won't appeal to all types but if you're a fan of joints like Coco's Cantina up the road or Wellington outfits like Sweet Mother's Kitchen, this is guaranteed to be one of your new favourite places - whether it's just for a couple of drinks or some of those yummy shared plates.
It's worth noting that you can't book ahead - though we didn't have too much trouble getting a table on this occasion as there are plenty - and that it's open until 1am from Thursday to Saturday.
Drinks: Extensive cocktail menu (all $14), small wine list, large beer list including Coopers, Sapporo and Stoke on tap
From the menu: Haloumi and garlic sauce slyder, $14; dirty bird with lime and aioli, $16; Mr Potato Head pizza, $16; soft-shell crab soft taco, $14; cake and shake, $12