Luxury brands are extending their global reach.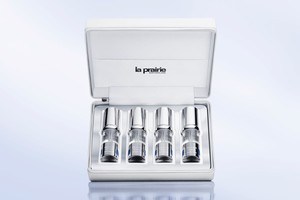 Russia and then Brazil are the new frontiers for luxury brands, says a man who is perfectly placed to make the prediction.
Patrick Rasquinet, global head of La Prairie skincare, says though Asia - and China particularly - have delivered growth in the global market for prestige products, his company's focus is wider.
Russia, where he has worked after stints in Brazil and South Korea, is experiencing an explosion in label shopping, in tandem with the building of luxury shopping malls. Lack of retail infrastructure is holding back expansion in increasingly affluent India, but those parts of South America with a big mass market and fashion-conscious shoppers are ripe for increasing returns.
"Brazil has a population that is eager to consume," he says.
With times tough in America and Europe, expansion into new territories is being pursued by most luxury companies. For La Prairie a key concern is how to do this while safeguarding brand image by being in the right retail environment.
Rasquinet, who was in New Zealand and Australia this month to meet distributors and ensure the promise of his pricey skincare is being met, said expansion had to be managed well. In China La Prairie has just 18 counters - New Zealand has four - and though interest in stocking the brand there is high, he is proceeding cautiously to ensure it is well represented. Within five years he expected to have 50-60 counters in China, but only in the best locations.
"In some markets if we reach 1 per cent [market share] it would be quite an achievement, in others it might be 5, 10 or even 20 per cent."
This could only be achieved by offering "service, quality, performance and a luxurious experience".
Australasia accounts for two to three per cent of the Swiss-based company's total global sales, with New Zealand a smidgen of that. As a country short on luxury spas and designer shopping - or even particularly ritzy malls - expansion here is more about nurturing existing customers than opening many more counters. La Prairie is currently stocked only in Smith & Caughey's and a department store each in Wellington and Christchurch.
"What counts for me is that I want this brand to be the best brand," says Rasquinet. "Our main objective is to be the No. 1 luxury skincare brand in the world."
To this end, the dapper businessman - who looks like The Office's David Brent after a lengthy stay in charm school - says the right counter staff are key to meeting customer expectations. "Beauty advisers are crucial - more than any type of advertising."
Offering regular customers extras such as facials is all part of the service, but so is delivering a product to their performance expectations. "At such a price tag if a consumer is disappointed they will not come back.
"We are targeting the woman who wants the best for her, she wants the best product there is."
Despite world economic woes, Rasquinet said only a small number of luxury goods customers were trading down in their product choice. Sales in southern Europe had been challenging, but mature markets in America, France, Germany and even Italy had done well, with Europe overall returning double digit growth.
By delivering consistently - "never deviate, never discount" - brand loyalty could be retained. "The customer who buys La Prairie buys efficacy. We don't want to over-promise - we make sure that our claims match the outcome," he maintains.
Rasquinet says the world's most demanding skincare consumers are the Japanese and South Koreans. Women in those countries also use on average the world's highest number of skincare products each day, with seven to 12. They are particularly demanding of texture, which is one reason La Prairie tests some of its products in both countries.
Japanese and Korean customers also spend the bulk of their beauty budget on skincare, whereas in many markets makeup is the priority.
"In France fragrance is very big."
All three beauty categories are offered by La Prairie, but makeup, other than foundation, is thus far restricted to America and a few Australian counters, and fragrance is a sideline. Rasquinet says skincare will always be the priority. This reflects the brand's history, originating in an exclusive Swiss clinic and still making its products there despite now being owned by the German multi-national Beiersdorf. La Prairie still makes its products in Switzerland, with research and development centred on Zurich, where he is based, and marketing managed from New York, where he often travels. He predicts that evolving research into the use of plant stem cells in skincare has the most potential for delivering vital innovation. The new Cellular Power Infusion, a booster regime for skin, is, he claims, "a game changer".
Rasquinet came to La Prairie from the parent company and said the main difference in moving from a mass market business delivering Nivea was that La Prairie stores often ordered US$1000 items piece by piece, rather than supermarket-style by palette.
"In the luxury business we do know each of our customers individually," he says. That underlines why excellent counter service is so vital. The overall experience needs to deliver. "The packaging, the texture, do you like applying it on your face?"
And La Prairie has no plans to seek a "face" for its brand. "The best ambassador is a satisfied consumer."