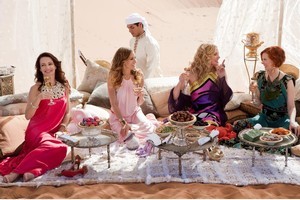 Patricia Field says the writers of Sex and the City were very smart at introducing fashion into the show.
The stylist is well known for creating the outfits for all six seasons and both big screen adaptations of the show.
Field credits the writers with bringing in the fashion element of the story and making it such an important part of the series.
"The fashion of the show began to make an impression, and the writers were very smart," Field told WWD.
"They hooked into that and started making shoe sound bites, like, 'I lost my Choos', and writing a scene where Carrie cried over a pair of Manolos."
The costume designer began her career in TV and film in 1986, and was immediately attracted to the job because it carried little responsibility.
"When the opportunity came up to do styling on sets, it was a good balance for me because you just sell a service and you walk away," she said.
"Whether it's a six-day commercial shoot or a six-year TV series, the success of it isn't your responsibility. My job is to make the actor feel comfortable and attractive in front of that camera."
As well as her TV success Field also has her own line, House of Field, which she launched in 1994.
She admits she could hand over her business and settle down, but she enjoys her work too much.
"I could have walked away a long time ago, turned my business over to my top guys, took my money, moved down to my beautiful little apartment in Florida and watched the ocean," she confessed.
"If I were to walk away from my work, I'd be dead. My work is my life."
- AAP