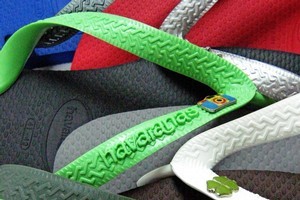 Bling thong
Turn your Havaianas into an individual style statement this summer by choosing your own colour sole, strap and add-on charms in a pre-Christmas promotion at Smith & Caughey this week. It could be the perfect DIY present for a fussy teenager. For the first time, the annual Make your Own Havaianas event includes the slim strap design. Prices start from $28 for regular flip-flops and $38 for the slims, with charms from $5 each. Get to work at the Newmarket store this Friday, December 2 and Saturday, December 3, ground level.
It'll be all white
Start with some luxurious jewel-toned silk and how far wrong can a fashion designer go? But what if designers were asked to work with only white cotton? Attention to cut, form and detail would become paramount. Put five white cotton dresses, each created by a top New Zealand fashion designer, side by side, and you have a seductive exhibition from our top designers. But what if you could then take them home?
Couture for Christchurch is the chance to do just that. Designers Juliette Hogan, Alexandra Owen, Adrian Hailwood, Taylor Boutique and Salasai have been asked by Urbis magazine to each create a bespoke dress - using only white cotton. This Friday, the public has the opportunity to see and buy these one-of-a-kind dresses in a charity action hosted through Webbs. All proceeds from the dresses will go to the Christchurch Women's Refuge.
Held at Webbs, 18 Manukau Rd, Newmarket, from 5.30pm, to coincide with their December auctions preview evening, this will be an evening of fashion and philanthropy, and a spectacular presentation of the dresses by some well-known actresses.
The dresses (including size details) can be viewed at webbs.co.nz or urbismagazine.com and online bidding will be through Artfact.

Lured me in
Deadly Ponies has created a small summer injection range, featuring limited edition bags with a snakeskin pattern embossed on to leather, and a re-issue of their popular woollen keyring lures ($49 each). The bags and lures will be available from tomorrow at Superette boutiques, and Deadly Ponies' online store.
Big little Christmas
Christmas fever is taking over inner city Auckland, with Aotea Square featuring "Christmas in the Square" that will see Christmas markets and live performances, and Smith and Caughey's famous Santa's Enchanted Forest open from today ($10 per child). The Federal St Christmas lights will be turned on tonight at 8.30pm as well.
Charlotte Rust, stylist and former owner of one of Auckland's favourite vintage stores, Fast & Loose, has been enlisted as the Big Little City's Christmas Gift Guru, and will be shopping inner city stores to source presents for some well-known Kiwis. Her suggestions will feature on BigLittleCity.co.nz, as Christmas shopping inspiration for the rest of us - and the public are being invited to create their own gift lists which will go in the draw to win one of five $1000 Christmas wish lists, thanks to Gem Visa.
Down under
Further proof that the Australian market is a key growth area for luxury fashion: Elle Australia is set to launch next year, and MrPorter.com, the brother to luxury e-store Net-a-Porter.com, has launched a special Australian issue of their popular "Journal" section, featuring nine Australian men making their stylish mark including Icebergs' Maurice Terzini, Duke Bistro co-chef Thomas Lim, hotelier Justin Hemmes and Monster Children's Campbell Milligan.
Who's the winner?
Labels Blak, Lela Jacobs and have been announced as the finalists for the DHL Express Fashion Export Scholarship 2011 - with the winner to be announced later today. This year's competition was judged by Nom*D designer Margarita Robertson, Kim Crawford Wines co-founder Erica Crawford, DHL Express' Megan Wildermoth and Fashion Industry New Zealand (FINZ)'s Mapihi Opai. The winner will receive international freight to the value of NZ$10,000, coaching in freight and logistics from DHL Express, a tailored export mentoring package from FINZ and an annual FINZ membership. Previous winners of the scholarship have included Twenty-seven Names, Lonely Hearts and Stolen Girlfriends Club.
Online news
Stylish.co.nz is another new website, but with a difference: as well as fashion, they also sell a range of homewares. The recently launched lifestyle website is stocking pieces from fashion designers including Yvonne Bennetti, Celine Rita, Charlotte Penman, Charlie Brown, Kingan Jones and Saben, plus selected beauty brands. They also offer an extensive range of homewares, from travel accessories to pillows to clocks to ottomans - brands on offer include Coast, Old Mill Road, Rosanna, Geneva Sound, David Fussenegger and Tivoli.
Helping hand
If you're shopping up a storm, why not slip in something extra for the Sallies. Last Christmas the Salvation Army gave out 35,000 presents to needy families and this year it says the community need is even greater. Its annual appeal, in conjunction with Kmart, is under way, with new, unwrapped gifts welcomed for drop-off at Wishing Trees in each of the retailer's 15 stores. Gifts for people of all ages are sought, and those for boys aged 6 to 16 are especially requested. In a separate appeal, the Sallies are also collecting donations for their food banks, with Watties matching donations can for can.
Online updates
Farmers' interactive website for its club card members has some smart new features. We especially like that you can check out dresses on models who are Size 8, 12 or 16 for a realistic impression of what a style looks like on differing body shapes.
Smith & Caughey's is also doing more with online promotion, offering special deals to subscribers for purchases from its new wine cellar. Tasting notes come from the top, with Andrew Caughey making his recommendations. Delivery is free in Auckland for purchases of six or more "special" bottles.
Shining bright
Parnell is getting its very own Christmas tree, with the tallest tree along the rise being lit up this Friday night. The 40m Norfolk pine was once used by ships as a navigation aid and is destined to be a significant landmark again when it is strung with 10,000 lights. The Friday tree-lighting festivities run from 5.30pm, with family activities, including carols and Father Christmas and an hour-long countdown to the switch-on which takes place at 8.30pm.
Franklin Rd may have the Christmas lights, but the eastern suburbs will now have a significant beacon not just at Christmas but all year round, said Parnell Inc's marketing manager, Kelly O'Shannessey. The business association has a five-year plan for better lighting and to reinforce Parnell as a destination shopping area, featuring food, fashion, art and design.
Marked down Zambesi
Zambesi is holding a one-day only "Scramble" sale this Saturday, with menswear, womenswear, fabric, shoes, accessories, prototypes and samples at discounted prices. 10am-5pm, 113 Wellesley St West, City.