Herald Rating: 2/5
Address: 99 Hurstmere Rd, Takapuna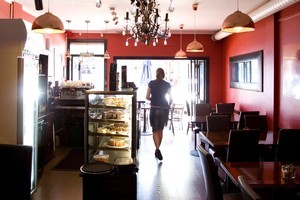 We came here because we were keen to make the most of the sunny weather with a drive to Takapuna Beach.
Parking was like hen's teeth on Hurstmere Rd but we managed to nab a 30-minute spot.
We walked in and immediately thought the cafe looked a bit dated with its deep red walls, wooden tables and laminated menu folder. It probably didn't help that the rickety outdoor table we initially sat at had a used ashtray on it.
The most unusual thing on the menu was the bubble and squeak - crispy potato cubes, wilted cabbage, streaky bacon and cheddar cheese, topped with a free-range poached egg ($15).
We ordered the vegetarian big breakfast with avocado, wilted spinach, two free-range eggs, hashbrown, sauteed mushroom and grilled tomato on five-grain, ($17.50), and the eggs benedict with a choice of streaky bacon, Spanish chorizo or smoked salmon ($16). The vege breakfast was oily and limp with overcooked eggs, stalky spinach and a hashbrown that tasted as though it had been deep-fried in burnt oil, with a complimentary fry from someone else's order.
The bene was okay but greasy.
The service was friendly but slow. We were welcomed with a smile and politely attended to but things took a while to arrive and plates too long to be cleared.
The coffee was Fiori's saving grace. Lavazza, served in a decent-sized cup, and well made.
We recommend if you come here stick to the coffee.
Overall we thought Fiori needs a makeover if it wants to compete with the other cafes in the neighbourhood.