Home décor is all about love for an Auckland woman.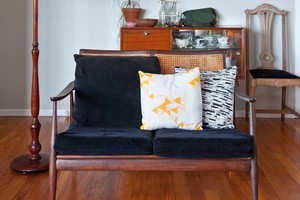 Jessica Whiting is passionate about craftwork but it doesn't dominate the 1950s weatherboard house she shares with her 6-year-old daughter, Grace.
"Craft exists in my house as a garnish - it adds a little something but isn't the focus," she says. "It definitely adds personality, though, which is very important."
That attitude shows quite a bit of restraint from someone who is deeply involved in the world of handmade. Whiting runs her own design website, works as a freelance graphic designer, manages events and curates crafts markets in Auckland. She makes clothing, jewellery and homewares for her label, Bam Bam Creative, and runs the Auckland Craft Collective (a business resource for craftmakers) with friend Kylie Richardson.
The home Whiting rents in Browns Bay on Auckland's North Shore has a background palette of wood, black and cream. While craftwork features, the home isn't cluttered, as she also likes simple and elegant lines.
"I love mid-century design, clean lines, materials like wood and glass, design that is functional at the same time as looking amazing," she says. "I like to mix new and old and industrial, finishing with Nana's cut-crystal vases, but I'm not a fan of clutter or having objects just for the sake of it. I think that everything you have you need to love."
Creating a new or seasonal look is a simple process, with a few key items changed. "The things that change are the cushions, prints, vases and lampshades. I like pops of colour and quality fabric that's soft and warm," says Whiting. "My cushions are all black corduroy, which is the absolute best, all year round. I love turquoise, yellow and silver."
As the seasons change, so too does the look of her rooms. "In winter I move the couches to be closer to the fire. In summer, everything gets pushed back to allow a feeling of space. It's those little changes that make it feel like you have a whole new house."
Her involvement with craft has grown over time, beginning as a creative outlet while she finished her design studies.
"I began the Auckland Craft Collective with Kylie as there wasn't much out there to assist makers with the business side of things and that led into the Auckland Art & Craft Fair, as a way of showing the work of all the talented people we met." Her online store, Foxes, which represents 55 designers, is a way to showcase her own sense of style as well as showing off the produce of "great people I know, making awesome stuff".
Style tips
Gut instinct: Whiting advises following your intuition when buying pieces. "You might not think something will match when you buy it, but follow your instinct enough and eventually your whole house will match and your own style will eventuate."
Big picture: Use graphic prints and illustrations to show your personality.
Be bold: Try out different paint colours just for the sake of it. "The worst that can happen is you have to repaint," she says.
Leanne Moore is the editor of Your Home & Garden. For more pictures and the full story on this house see the latest issue of the magazine.