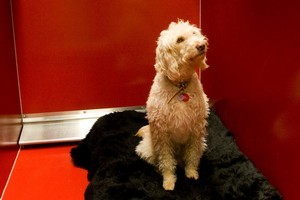 It's got everything you could ever want in holiday accommodation - exclusive suites, flat-screen TVs with access to cable shows, a pool, playground and top class food.
This is not your hotel, but the luxury kennel where your dog may get to stay while you're away.
Boarding kennels that offer that little bit extra for beloved canines are popular overseas, and are now taking off here. Business is booming for New Zealand's first pet hotel and day spa, Pets in the City, and owner Rob Ellis, who started the company three years ago with his wife Carole, reckons upmarket "hotel-type" kennels are the way of the future.
"We've found that people really want to make sure their dogs get special treatment while they are away, and they are prepared to pay for it. We started our business as the recession hit and at one stage we did think, 'oh no, what have we done?' But business has been great.
"For a lot of people, their dogs are not just pets, they are a part of the family.
If they are going away somewhere nice, they want their dog to have somewhere special to go to too. And they want the peace of mind of knowing that the dog is being well looked after."
Treats on offer at Pets in the City, based in Mt Wellington, Auckland, include individual "apartments". The premium ones have fleece blankets, a cookie on the pillow at night and a shared flat screen TV permanently tuned to Nickelodeon or Animal Planet. Upgrade to an executive suite and your dog will be spoiled with their own TV, duvet and pillow, toys to play with and a whole bag of cookies.
Doors can be opened between the suites so dogs from the same family can have adjoining rooms and, if your dog stays more than five days, they get a complimentary bath and blow dry. The kennels are all indoors in a huge 1000sq m facility, which includes six different play areas.
"We don't need to walk the dogs because they spend all day running around playing with other dogs. They get plenty of exercise," says Ellis. One area, named Toy Town Fantasy Playland, is exclusively for tiny toy dogs, with equipment specially designed for little legs.
"It's a completely separate area so small dogs don't have to come into contact with big ones."
If you want to go the extra mile and really pamper your pooch, there are extras available, like doggy massage and hydrotherapy sessions on an underwater treadmill. Dogs can do aqua-aerobics to help with their fitness or have special sessions if they are suffering from joint problems or recovering from injury.
The kennels' urban location is another reason Pets in the City is proving so popular, he says.
"Traditional dog kennels tend to be set in rural locations and people these days are too busy to trek out of the city to kennels, especially if they are only open to the public for a couple of hours in the morning and afternoon."
Before opening Pets in the City, the Ellises owned what he describes as a "Ma and Pa kennel" in rural Ramarama. Fed up with being unable to let dogs run around outside because of frequent rain, the couple began investigating American-style kennels all under one roof. They did extensive research, travelling across the States looking at different facilities, and eventually launched their version in 2008.
"We spent hundreds of thousands of dollars on equipment from America and for the first 14 months we lived in a caravan on the property and did all the work ourselves because we couldn't afford staff."
Today they have nine staff, including two veterinary nurses, who work shifts so the kennels are manned 24 hours a day. They are planning on franchising the business and think people around the country will respond as well as they have in Auckland.
Other kennels seem to be happy in the meantime to stick to more traditional facilities and services, citing high standards of care as the most important thing when it comes to looking after somebody else's beloved pets. But some are starting to offer additional services within their existing operations.
For example Pinky's Pet Boarding in Botany South, Auckland, has set up a live webcam service that enables owners to log on and see what their pet is up to while they're away. "That has been very popular," says Pinky's marketing manager Justin Weight. "It is good to be able to show them that their dogs are doing just fine."
Cost of care
So what does it cost to put your dog in kennels, and what do you get for your money? Most kennels supply food and also make sure the animals are exercised and given medication if needed. Here are some kennels in the Auckland area (some of which also have a cattery):
Pets in the City
Location: Mt Wellington
Facilities/services include:
* Individual US-style apartments
* Fantasy playland for small dogs
* LCD TVs
* Indoor play parks
Prices (per night):
* Apartment for small dogs $34.50 ($36.50 peak season); medium to large dogs $37.50 ($39.50 peak)
* Premium apartment $41.50 ($43.50 peak)
* Executive suite $47.50 ($49.50 peak)
Pinky's Pet Boarding
Location: Botany South
Facilities/services include:
* Individual indoor suites
* Separate facilities for small and big dogs
* Playpen
* Web cam
Prices (per night):
* Suites $25
* Large suites $45
All Seasons Pet Resort
Location: Drury
Facilities/services include:
* Separate areas for small and big dogs
* Several daily play sessions
* Pet taxi service
Price per night:
* Small dogs $24.50 ($26.50 peak)
* Medium dogs $27.50 ($30 peak)
* Large dogs $30 ($32 peak)
Brookby Pet Lodge
Location: Manurewa
Facilities/Services include:
* Air-conditioned/heated kennels
* Indoor/outdoor play areas with splashpool
* Play area for small dogs
Price per night:
* Toy dogs $24
* Small dogs $26
* Medium dogs $28
* Large dogs $32
* Extra large dogs $34