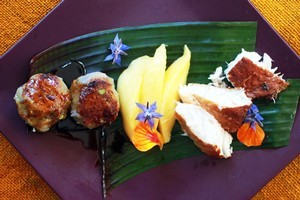 Levionnois used tapioca to make these but I have substituted kumara and taro. I'm sure he would approve of my "think local" approach.
1 Cook 300g of golden kumara and 300g of taro by boiling in salted water until soft (it is important that the taro is well cooked). Drain and dry and mash with some garlic chives and chopped spring onions. Form into golf-sized balls and chill.
2 Slice some fresh mango into wedges.
3 Smoke some fresh snapper or buy some. Smoked marlin, tuna or even eel would also be good. I smoked the snapper by lining a baking dish with foil, sprinkling the base with smoking dust, sitting a cake rack on top, then sitting the fresh snapper on the rack. Seal with more tinfoil and heat on an element until the dust starts smoking. Put into a medium oven and leave for 10-15 minutes. Unwrap and allow to cool.
4 Make a ginger syrup by grating 50g of palm sugar (Levionnois used sugar cane), 30g of grated fresh ginger, 2tbsp of light soy sauce and a cup of water. Boil to reduce by a third and strain out the ginger. Allow to cool .
To plate:
1 Lightly dust the balls in flour and gently cook in vegetable oil, as you would a meatball.
2 Put into a medium-heat oven to finish heating through.
3 Arrange slices of the smoked fish at one end of your plate, place mango slices in the middle, and at the other end place balls with a dressing of ginger syrup. Decorate with petals and herb flowers.