Grant Allen finds a Noumean chef is turning heads with his approach to local food.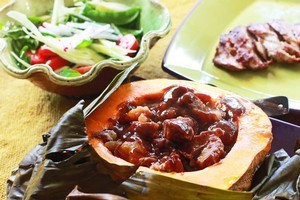 A few weeks ago I was lucky enough to travel to Noumea, as a guest of New Caledonia Tourism, on one of its Gourmet Tours. If you want great food, fun, French influence or just to lie around a fabulous beach, then this is the place. However, we were there on a mission, to check out the culinary delights that this French protectorate has on offer. The tour included visits to markets, farms, cooking schools and restaurants, and an introduction to Gabriel Levionnois.
Levionnois also has a mission. Born in New Caledonia, he trained as a chef in France. After years working on superyachts, he has returned to Noumea. He is creating a bit of a storm with his approach to ingredients (emphasis on local), his food (definitely not classical French) and his approach to life.
His restaurant Au Petit Cafe opens only four days week so he and his staff can "have a life". In a society and food culture that is very prescribed and traditional, this is almost revolutionary.
We visited Levionnois' country property in Focola, where he has renovated a tumble-down house, is reshaping the land and madly planting all manner of food-bearing vegetation. After we met I saw a quote by Paul Gauguin on a blackboard in a restaurant, reading "A cook should have a light touch, a generous spirit and a large heart." This sums up Levionnois to a T.
He cooked for us in his simple kitchen, and here I have tried to recreate his menu to share with you.
* Grant Allen has been a professional cook for 30 years. He works as a caterer in Auckland. Visit Grant's Facebook page for more ideas.