Wendyl Nissen's greenie ethic takes a knock at the dinner table.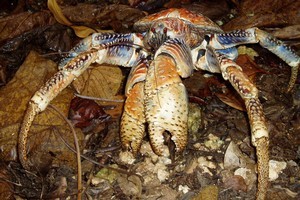 It's been a long time since my actions have caused an entire restaurant to fall silent and collectively draw breath in anticipation of something going horribly, terribly wrong.
But it would seem that particular drought is over, following a culinary disaster which will forever be known in my house as the "crab incident".
The scene of the disaster was not so much a restaurant, more a very romantic setting with about 20 tables set up for dining outdoors on a beach, on a warm, moonlit night, each table possessing its own hurricane lantern and various tropical flowers scattered about.
"Isn't this lovely?" I said to my husband, full of joy and two pre-dinner martinis.
"Let's order the coconut crab," he responded.
For years I have avoided certain things on restaurant menus. Prawns served in their shells which means you must rip them apart with your hands in a very uncivilised manner.
Same goes for crayfish and anything involving a lot of bones. These foods are fine for eating at home where you can tuck in claws and all, but not when you are trying to "eat nicely" as my mother used to instruct. I was taught never to lick my fingers, put my elbows on the table or smear food all over my face, three things which become absolutely necessary when eating the aforementioned foods.
Coconut crab is a delicacy in Vanuatu where we were staying. So are native ground pigeons and flying foxes - yes, bats. The crabs have adapted to climb palms and eat coconuts which then give their flesh a most delicious coconut flavour.
"Oh yes, let's," I replied and we promptly ordered our crabs imagining something delicate and salad-like with clumps of crab flesh assembled on top.
I should have known something was up when the waitress came and placed two instruments which would be more at home in an orthopaedic surgeon's operating theatre than on our table. She then produced with a flourish two large pieces of cloth the size of a child's nappy and tied them around our necks. "Are you thinking what I'm thinking?" I asked my husband who was doing a very good impression of a 54-year-old baby boy with his bib neatly in place.
Then it arrived. One dinner plate the size of a car tyre was placed in front of me with a bright red crab the size of my fattest cat at home staring up at me. The other plate arrived soon after and had to be accommodated on a side table with much fussing by three staff.
That's when the silence fell. Suddenly, we were the centre of attention as people stared in horror.
"Surely they're not going to eat that?" I heard someone mumble.
There was nothing for it but to tuck in. As we cracked open claws the size of a small chicken and sucked flesh which tasted of coconut we were covered in muck up to our elbows, our chins dripped with sauce and we did our best to pretend we were the only people on the beach enjoying our rather unique meal.
The next day, after we had washed off and laundered our clothes, I sat down to read the guide book.
"Coconut crabs take 15 years to reach harvest size and, sadly, there's been a serious decline in crab numbers," I read aloud.
"I thought you greenies did research about that sort of thing before you went on holiday," said my husband, neatly distancing himself from his complicity in our food crime.
"So this is what a green goddess does when she goes on holiday," I moaned full of self-loathing. "Seeks out an endangered species and gorges on it.
"People weren't staring at us because they thought we were eating too much, they were shocked that we could be eating an endangered species!"
"You should have had the bat," he said. "Apparently, they're in very good shape.