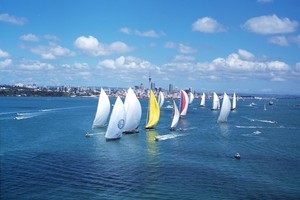 An expected fleet of superyachts, all at least 30m long, are likely to provide a thrilling spectacle when they compete in the Millennium Cup in the Hauraki Gulf next February.
First held during Team's NZ's successful defence of the America's Cup, the Millennium Cup will now be held annually. Organised by NZ Marine, the regatta is expected to attract some of the world's most prestigious superyachts. It is also expected to help showcase New Zealand's superyacht building and refit industries.
According to Stuart Robinson, chairman of NZ Marine's Millennium Cup committee, the 2012 Millennium Cup has already attracted what he describes as a top quality field of five highly impressive vessels, with strong interest from a number of others.
The confirmed entries, all of which were built in Auckland, range from the 31m M/Y Pacific Eagle to the 48.5m S/Y Georgia, both from the Henderson yard of Alloy Yachts. The latter, christened at the stroke of midnight 2000, was not only the first superyacht of the new millennium; she was also, at that time, the world's largest sloop.
Also confirmed is the Yachting Developments-built 33.8m Silvertip, holder of the Millennium Cup and the first yacht in the world to win the International Superyacht Society's Best Sailing Yacht and Showboat's Best Sailing Yacht awards.
Rounding out the entries are the 39.6m S/Y Janice of Wyoming and the 44m S/Y Imagine, both also built by Alloy Yachts.
Robinson says the yachts, their owners, guests and crew will enjoy an action-packed three days as part of the Millennium Cup festivities.
"On Thursday, February 16, the motor yachts will set off early for a rally that will take them to and around picturesque Waiheke Island," he says.
"The sailing yachts will start a little later and are certain to make a spectacular sight as they race around the Waitemata Harbour, no doubt to the delight of spectators on land and sea.
"The next day, the action shifts to Kawau Island as the fleet again provides an awe-inspiring spectacle, reaching up past the East Coast Bays and Hibiscus Coast.
"Then, after a Kiwi barbecue dinner on Kawau, at which we will showcase some of the best New Zealand food and wine, the fleet will, on Saturday, race back to Auckland for the prize-giving and a farewell celebration."
Robinson says the Millennium Cup is generally acknowledged as the South Pacific's premier regatta for superyachts.
"It is also a great opportunity for the New Zealand marine industry to showcase its talent, especially in the export-driven superyacht new build and refit sectors."
Millennium Cup
What: Races and social events for superyachts
Where: Waitemata Harbour & Hauraki Gulf
When: February 16-18, 2012
Confirmed entries: S/Y Georgia (48.5m); S/Y Imagine (44m); S/Y Janice of Wyoming (39.6m); S/Y Silvertip (33.8m); M/Y Pacific Eagle (31m)