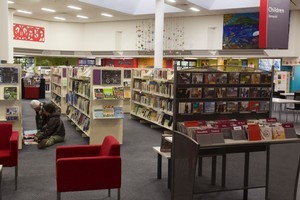 At a pub quiz a few weeks ago, a friend turned to me out of the blue and said: "You know what? I'm really getting back into my reading, for the first time in years."
This wasn't due to a second childhood, the latest Inheritance fantasy release or his commitment to helping our quiz team, Ultimate Deathray, live up to its name.
Instead, his page-turning enthusiasm had come back simply because he could now request any of the 3.5 million books in the Auckland Library system from the comfort of his own home and they would be delivered to his local library just down the road, free of charge.
He's not the only one to rediscover the joy of reading; since the Super City amalgamation just over a year ago, item-issuing at the 59 Auckland libraries (including four mobile libraries) has gone up by about 7 per cent and visitor numbers have risen 18 per cent.
Before amalgamation, Aucklanders were already visiting their libraries eight times a year on average; now, that figure's nearing 10.
We can reassure counterculture director John Waters - who worries about these things - that reading books is cool again.
Benefits previously seen in only one council area are available from "Wellsford to Waiheke to Waiuku". Now found everywhere: the Wriggle and Rhyme programme for babies. Now found nowhere: late fines for children's books.
I'm loathe to tell you the next bit, because I'd rather keep them all to myself, but documentary films can be borrowed free of charge for 28 days.
Without even stepping into a library branch, you can peruse a wide variety of ebooks, newspaper archives and school project resources online with your library card as well as audio books and music.
The Naxos database contains jazz and classical music, and a plan is under way to add the Sony catalogue as well. (The downloads "self-destruct" after the borrowing period is up.)
The digital library website isn't the easiest to navigate but it's worth the effort. There are online exhibitions and useful databases you've never heard of, such as "Fundview", which holds information about community awards and scholarships.
It's all happy news, particularly at a time when the philistines in charge of Tauranga and Hamilton have recently, repulsively, considered charging for normal library book loans, like the Roald Dahl villains they are. Both councils backed down, although Hamilton's compromise is appalling in its own right: closing suburban libraries on the weekends - in other words, on the only days when many workers can get to them.
In contrast, and in line with worldwide trends, Auckland is investing in its libraries, redesigning several of them and extending the Tupu youth library in Otara.
Libraries these days see themselves as hubs for community activity and expert guides through the tidal waves of information for net surfers. Of course, as always, they're also repositories of "information", which head of Auckland Libraries Allison Dobbie explains includes fiction as well as non-fiction.
As John Waters puts it: "Don't let me ever hear you say, 'I can't read fiction. I only have time for the truth.' Fiction is the truth, fool!"
Remember that - you never know what'll come up at the pub quiz.