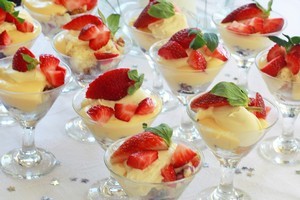 These are dead easy and served as mini individual portions they will be all you need after a ham feast.
1 Buy or make a sponge trifle.
2 Spread it with jam.
3 Cut it into small cubes and sprinkle with your favourite alcohol or orange juice.
4 Mix some fresh or frozen blueberries through the sponge and allow to sit for at least 2 hours.
5 Divide the soaked sponge cubes and blueberries between individual glasses or bowls.
6 Cover with ready-made custard.
7 Top with thickened cream and garnish with chopped strawberries.