Do not skimp when choosing your Christmas carve as Grant Allen writes.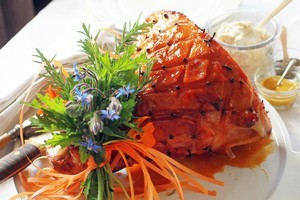 A couple of weeks ago I was part of a team judging the New Zealand Sausage Competition. As well as learning a lot about sausages, I took the opportunity to ask a long-time butcher at my table about hams. He gave me this advice:
* Don't look at the price.
* Decide if it's important to you whether your ham is New Zealand pork (700kg of pork is imported weekly).
* Is it important to you that it is free farmed or free range?
* Ask your butcher if he corns his own ham.
* Ask your supermarket who supplies their ham and learn its origins.
* Then decide which ham is the best for you and your budget.
Clinton Beuvink from Nosh adds:
* Look for the logo that says 100 per cent New Zealand Ham.
* A good ham should be moist but not "swimming" and the meat colour should be fresh, bright and pink.
* The least expensive hams usually have the highest water content, but water adds nothing to the taste or the nutrition. As an indication, watch out for water or high moisture in the ham bag. "You don't want to be carving water on Christmas Day," he says.
* Do you need a whole ham or just a half? How many are you feeding, and over how many days?
Harmony and Freedom Farms hams are free range or free farmed, but unfortunately there are no mass-produced organic hams available in New Zealand. The cost of those available will be 30 to 40 per cent more.
"Free farmed" pigs are farmed in open eco barns so they can come and go as they please. They are SPCA approved and the pigs have a happy life without the use of crates or pens.
How hams are made
The traditional process for making a ham is by pumping the fresh back leg of a pig with brine and seasoning (up to 35 per cent in weight). It may be then soaked in a brine, dried, smoked (check that it is not just smoke flavoured) and then cooked.
The bone may be left in, or the leg tunnel boned, leaving just the hock end piece of bone in to make a Champaign ham. I prefer the ham bone in. The flavour is better, the meat stays more moist and firm, but you may find a Champaign ham easier to carve.
Hams are sometimes made from shoulder meat and although these will be cheaper, they will be fatty and not be as nice to eat.
Carving a ham
Use a sharp knife and a pair of tongs. When carving a ham with a bone in, don't cut along the joint. Carve towards the knuckle on the left side of the ham (if you are right handed) then, once the slices become too large for a normal serving, begin slicing on the right side of the ham so that a V shape is formed. Work down either side of the ham alternating from left to right, and only carve down to about half-way.
Hot ham
Bought ham is cooked and ready to eat. To serve it hot, heat it through to get the juices flowing and bring out the flavours.
1 Cover the ham with tinfoil and put it on a rack in a roasting pan with a little water. Bake at 150C for 20 minutes per kilo, to an internal temperature of 70C.
2 Regularly baste with the ham juices from the tinfoil.
3 Keep warm and allow to rest before serving.
Storing your ham
All hams contain nitrate, a preservative the New Zealand Food Safety Standards requires to be present in hams. Freedom Hams and Harmony Hams use nitrates at less than eight parts per million.
Farm Choice hams use a natural nitrate from celery juice as a preservative, so these hams are a good option if you are looking for a chemical-free ham.
Good care will also extend the life of your ham. Gregor Fyfe from Freedom Farms recommends using a ham bag:
1 Remove ham from the wrapper. Wipe dry.
2 Mix 2 cups water with 1tbs white vinegar.
3 Soak ham bag in mixture for a couple of minutes. Squeeze bag dry. Put ham into the bag and refrigerate.
4 Repeat every 3-4 days ideally.
If you don't have a ham bag use a tea towel. Do not wrap your ham in clingfilm. Well treated and refrigerated, a ham should last up to a week.
Ham leftovers
Boxing Day is a good time to invite people to help finish your ham. Ask them to bring their Christmas Day leftovers for a pot luck lunch or dinner.
If you had turkey as well as a ham, use the leftovers to make a ham and turkey pie.
Chop some of the ham and make a hearty Boxing Day bubble and squeak.
You can cut your remaining ham into slices or chunks and freeze in portions for future use.
Thanks
Thanks to Nosh for supplying a Black Rock Ham, and to Clinton Beuvink (Nosh) and Gregor Fyfe (Freedom Farms) for their information. And thanks Jan Henshall for your glaze recipe many years ago - my hams have never been better!
* Grant Allen has been a professional cook for 30 years. He works as a caterer in Auckland. Visit Grant's Facebook page for more ideas.