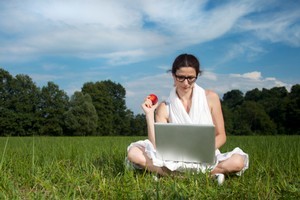 Coach and Fashion Foie Gras' Emily Johnston have created a bag for the "working blogger".
The American accessories label, which currently uses Gwyneth Paltrow as its campaign girl, have joined forces with fashion expert Johnston.
The writer has become part of the long list of bloggers such as Susie Bubble and Kristin Knox who have decided to collaborate with designers.
However, Johnston and Coach both had a clear idea that they wanted to create something especially for the fashion conscious writer.
"Emily's eye for making a great bag is as impressive as her super-chic fashion blog," Jason Weisenfeld, senior vice president of global brand communications and collaborations at Coach, told Vogue.
"We asked Emily to design something practical for the working blogger and in the process she created a bag that has the modern functionality every blogger needs."
The large canvas design has a special padded pocket for holding a digital SLR camera and a separate compartment for carrying a flat pair of pumps.
Johnston is thrilled with the final design and still can't believe that she got to work with Coach.
"One of my earliest memories of any brand or label is Coach," Johnston explained.
"My mother loved their handbags and I can even remember the smell of her first Coach leather holdall. So to have the opportunity to work with a brand that has played such a big role in shaping my own love of fashion is something I don't think I'll ever really believe has happened."
- AAP