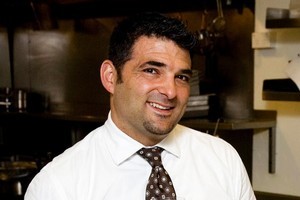 What's new at The Grove for summer?
We have our secret potager growing some special veges and forgotten herbs. It has 10 different types of tiny breakfast radishes, Japanese mitsuba, salad burnet, padron peppers, summer savory, and so on.
Favourites on the wine list at the moment?
Really excited about a lot of things on the new wine list. I haven't been excited about a sauvignon blanc in a long time and I have two new additions on the list that are outstanding. One is Fairbourne from Marlborough. This is a small, lesser-known producer and all they do is sav blanc which is concentrated and focused. I find it crisp and vibrant with balanced acidity. The other is an interesting white bordeaux. The Chateau Cabannieux is predominantly sauvignon blanc with 20 per cent semillon. This is a classic wine match with shellfish and I love the way the subtle oiliness of the semillon marries with the richness of the pork in Ben's crayfish and pork dumplings.
What is inspiring you most at the moment?
It's really all about the burst of growth at this time of year. Spring vegetables don't actually start on the first day of spring, it takes a while for the soil to warm up and the veges to grow and now we are in full swing.
Favourite ingredient?
I really love white asparagus, and we are using loads right now at The Grove. We are also really enjoying experimenting with a New Zealand razor clam which I hadn't seen until last week. Both items are paired with roasted sustainable hapuka from Leigh fisheries.
* Congratulations to Sophie Kindleysides from Takapuna who won the Viva Taste of New Zealand competition for dinner for four at The Grove, St Patrick's Sq, Wyndham St, City, ph (09) 368 4129.