Bayley Collins uses her love of animals as inspiration for some unique art pieces. Here she tells us what else she loves.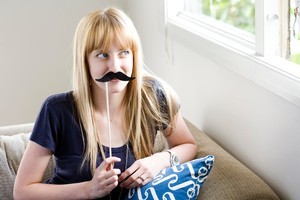 Bayley Collins can't remember a time when she didn't draw and make collages. She established her own art and design label, bird in a bunny suit, in 2009. Pieces combine illustration and collage, inspired by found images; each a one-off and featuring cute animal characters - like a bird with "mouse hat", a cat with a peg leg or a cute yet sinister "bunny-hawk". "I have always had pets with a lot of character - I think animals have as much personality as people do." Collins sells her original collages, and limited edition prints and cards, online, as well as at the Auckland Art Gallery Gift Shop and at various market and craft fairs - she'll be at the Auckland Art & Craft Fair on December 10. Next year she will also be expanding, releasing a small collection of adorable baby clothes.
And as for that name? It comes from an early collage she made of an owl with a rabbit's body.
10 FAVOURITE THINGS
1. Sarah McNeil
Sarah McNeil is my favourite artist - her whimsical animal prints are amazing. I envy her illustration style.
2. Handpainted tea cups by Lily's Make Believe
I bought these from the We Can Create artists' market, and love them so much I can't bear to actually use them. I also have one of her cut-out maps in my little art collection.
3. Tim Webber's Y Stool
This stool is in on my Christmas wish list (hint-hint to anyone in my family who is reading this). These are designed and made by New Zealander Tim Webber, and I need one for my studio - the hardest part is going to be choosing the colour.
4. Kikki K storage boxes
My entire studio is sorted into Kikki K storage boxes. They are my new addiction.
5. Red Hare print
My mum bought me this print by British artist Dee Beale last time she was in Britain. Beale's beautifully sweet prints are inspired by Scandinavian design. This one has been added to the ever-growing collection of bunny-stuff that is slowly taking over our tiny house ...
6. Moustache cushion
I love buying handmade items straight from the artist/crafter and I bought this cushion from the website Felt.co.nz. I never thought a cushion could have so much character. It takes pride of place in our living room.
7. Florence & the Machine
Lately there has always been a Florence & the Machine song playing in my head. My favourite song at the moment is Shake it Out.
8. Ziggy and Zues
My two cats Ziggy and Zues spend most of their day curled up in boxes in my studio. They provide me with endless inspiration for new birdinabunnysuit creations.
9. Bedrock Bones
I recently bought one of these necklaces after seeing it a window display at Made boutique, and have worn it every day since. They are lovingly hand-made by local crafter Monique Saville.
10. Tip Top vanilla icecream in the tiny round tubs
You can only find this particular icecream in small-town dairies - you have to eat it with the little wooden spatula too. It reminds me of summers when I was young. I always dig right to the bottom of dairy freezers when we go on road trips just in case.