Sophie Blazey has a low-maintenance style and creative ambitions.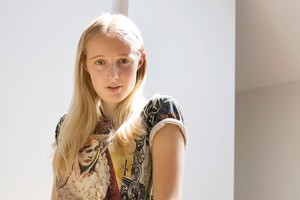 Young creative Sophie Blazey has worked with some of local fashion's biggest names, walking in runway shows for designers like Kate Sylvester, Stolen Girlfriends Club and Salasai, and in editorials for magazines including No. When she's not modelling, Blazey, who is represented by Clyne Model Management, studies graphic design at AUT, "to become equipped with art and design superpowers". She tells us more about her unique style, low-maintenance approach to beauty and reading her way through the Beatnik authors.
My love for fashion began tragically in the late 90s with metallic fabric, crop tops and sequins. Baby Spice was my number one fashion muse!
The best thing in my wardrobe right now is a two-piece pink 1970s outfit, with not only flared pants but sleeves as well. It's been sitting in my dress-up cupboard for years, and it has now upgraded to my wardrobe with its very own coat hanger.
Before I became a model, I thought modelling was easy and completely glamorous, darling! I found out that even though it's good fun, it is actually quite hard work.
It is interesting getting an insight into the huge amount of planning and hard work that goes into shoots and shows. I have huge respect for the creative people I get to work for.
My style is influenced by people-watching, old and new films and books, worldwide street style, music festivals and culture, random events that happen around me. But mainly what mood I'm in; sometimes my style has extreme tendencies.
The New Zealand fashion designer I respect most is Kate Sylvester. Every season I get obsessed with one of her ladylike dresses that I just have to buy - I like it how you can rock her designs at any age; it means I can can steal off my mama.
If I could have anyone's wardrobe it would be Zara Mirkin's, Stolen Girlfriends Club stylist and No magazine fashion editor. I got a taste of her wardrobe at her stall at the NZ Fashion Week garage sale - I managed to score a preppy netball skirt and 1970s dress.
My approach to beauty is very low-maintenance. I'm not into pampering, I think it's a bit of a waste of time and money. When I go away on my family's boat for months with no shower or soap my skin and hair feels the best.
My ultimate style muse is Bjork! She is about turning herself into a work of art. I respect her taste as she has worked with [film director and video artist] Chris Cunningham and [director] Michel Gondry. I want her orange wig from the cover of her new album.
In my address book is Alleluya Cafe in St Kevins Arcade - I like to stop off there with my sketchbook - followed by a trip to Art Space and Ivan Anthony Gallery across the road. I also have some sneaky tree houses where I like to draw, but they are top secret.
The last book I read was Junky by William Burroughs. I'm working my way through novels written by the Beat Generation.
My dream is to one day create my own magazine which focuses on a collaboration of fine arts, design and fashion photography. Pilot and Pop are two of my favourites that already do this kind of thing. There's however room for more boundaries to be pushed and a gang of bad-ass creatives are coming through.