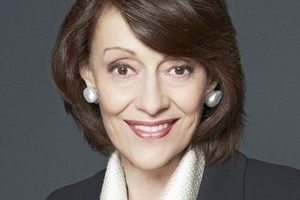 Fundraising champion
Evelyn Lauder, who founded the Breast Cancer Research Foundation and was a driving force behind the international pink ribbon fundraising campaigns, has died in New York. The senior corporate vice-president and head of fragrance development at the family firm and global cosmetics giant was 75.
Mrs Lauder was married to Leonard, son of company founder Estee Lauder. Their son, William, the company's executive chairman, said his parents had "nurtured the culture and growth of the Estee Lauder Companies, and as we grew, my mother was our creative compass and pillar of strength". She was also a philanthropic leader, who in 1992 co-created the Pink Ribbon, one of the world's most recognisable charity symbols.
The daughter of immigrants who fled Austria during the Nazi occupation, Evelyn Lauder was proud to have graduated from American public schools and taught in them for several years, but on her marriage in 1959 she joined her husband's family cosmetics company - then relatively small - where she supervised staff training, among other roles. Mrs Lauder came up with the name Clinique for the launch of that Lauder brand in 1968.
The passionate gardener and photographer assumed the role of head of fragrance in 1989, overseeing big-selling launches including Beautiful and Pleasures.
Her interest in women's health issues sprung from a personal experience with early stage breast cancer. She harnessed the company's resources to support an annual Breast Cancer Awareness campaign and later saw this grow through the foundation into an international effort to fund research to the tune of $350 million.
Mrs Lauder died this month of complications from ovarian cancer.
Bali high
Fancy a luxurious overseas retreat with echoes of the movie Eat, Pray, Love, but with the comforting touch of home? Then East Day Spa's Eat, Shop, Spa Luxury Retreat in Bali may be just the ticket. Hosted by Ina Bajaj, owner of the New Zealand spas and a retreat in Canggu, Bali, you will enjoy pampering, fine dining, shopping and sightseeing. The retreat has been timed to coincide with Bali's New Year festivities in March, which includes Nyepi, a sacred day of silence, contemplation and renewal. The price per person is $3700.
Tabatha's takeover
Reality television show star Tabatha Coffey went down a treat during her brief Auckland visit. After standing on stage talking and answering questions for two hours in towering platform Christian Louboutin boots, she happily posed for photographs with eager members of an audience mainly comprising hairdressers hooked on her show Tabatha Salon's Takeover (resuming next month on TV3). She is just finishing filming season four of the show, which will extend her critical eye to other struggling small businesses.
At her seminar she advised that leadership and passion were essential for success as was the ability to adapt to changing circumstances. Her no-nonsense, but caring approach went down well and included telling one hairdresser to simply "divorce" a difficult client and others to harden up.
Coffey revealed that she was moving from New Jersey to the West Coast to set up her own hair academy. From Auckland she flew to Australia for more seminars with hair company Joico and for talks that she hopes might lead to filming in Australasia.
More choice
Bobbi Brown, one of the few mainstream makeup ranges with dark liquid foundation (M.A.C and Napoleon Perdis are others) now has a new mineral loose powder foundation option. The silky finish Skin Foundation Mineral Makeup SPF15 costs $75 and comes in nine shades from alabaster through dark, deep and rich.
Cheap chips
The fast-drying, non-chip Shellac nail coating has been a hit, but dodgy dealers overseas have forced the company to warn consumers to beware of nail bars pouring inferior products into authentic bottles. No reports of that happening locally, but one to watch for as we've heard mixed reports about the staying power, colour quality and finish of other types of coatings. (Viva has had good results from Shellac, Orly FX and O.P.I Axxium, all of which require an in-salon acetone soak to remove and over time may leave some nails a little flaky, but they are well worth trying for a big occasion.)
Wish list
Christmas gift sets are now on shop shelves and of those we've seen Revlon's are some of the best value about, combining nail, lip and mini fragrance products in cute little clutches and purses priced from $35.95 to $69.50. The company is also selling nicely boxed perfumed candles and room diffusers for around $20. The Aromatherapy Company is another good choice with a well-priced gift selection of smart-looking home fragrance options.
Staying power
It's one of advertising's most quoted slogans and the saying "Because I'm Worth It' is still going strong after 40 years. To mark the occasion, L'Oreal held a get-together of some of its celebrity spokesmodels in Paris. The saying's origin came in justifying the then-dearer price for a hair product that of a competitor, but was later applied to cosmetics and skincare and adopted as the company's calling card.
Ouch begone
Around 50 per cent of New Zealanders apparently suffer from tooth sensitivity, which can be caused by over-brushing as well as neglect. Just in time for icecream and cocktail season, Sensodyne has reformulated its sensitive toothpaste for a better taste and easier clean. The new foam-to-gel formula of Sensodyne Iso-Active Whitening and Multi-Action toothpastes ($9.99) improves product dispersal.
Big bonus
QVS is offering a free bright pink zipped tote bag, lined with a vibrant Sable & Minx design fabric print, with purchases of $25 or more. The lure of a cheery nylon hold-all valued at $19.99 is a good excuse to check out QVS stands for stocking fillers such as tweezers and hair and nail accessories.
Beyond blonde
A heat-activated lightening spray is new from John Frieda, offering blondes who want to keep their colour light and bright between salon visits an extra tool on top of special blonde shampoo and conditioner. The Sheer Blonde Go Blonder Controlled Lightening Spray ($20.50 from Farmers and selected pharmacies) can be applied to accentuate highlights, touch-up roots or all over on coloured or naturally blonde hair. Spray it on and then use styling tools.
What's in my makeup bag
A woman who is used to being centre-stage shares her beauty secrets
Jennifer Ward-Lealand is used to being looked at, it's part of the job description for her work as an actor on stage, screen and television. She fronts up fabulously, with her commanding presence on show in Auckland this week as she brings home her national tour of Rita and Douglas .
She plays Rita Angus in a story about the painter's relationship with composer Douglas Lilburn.
Hema Quintessential Face and Neck Oil $140
I had a fabulous Hema facial a while back and this product feels like velvet on your skin. Totally gorgeous and highly recommended. (Stockists: Isabel Harris, Zambesi.)
Dermalogica Multivitamin Thermafoliant $118
A great skin polisher - and it is warm on your face. I can't even begin to understand the chemistry of that. (Selected salons.)
Clarins heavy duty eye makeup remover $50
Truly the best I have found. Excellent for removing heavy eye makeup after a performance. (Selected department stores, pharmacies and salons.)
Cetaphil cleanser mini size $12.99 (500ml $29.99)
I go through a tonne of cleanser throughout a theatre season and this is a great price, light and effective. (Pharmacies.)
M.A.C Mineralize Skinfinish Natural $56
Beautiful soft powder that gives a lovely highlight to the cheeks. Again, I use it on stage all the time. (M.A.C Britomart and St Lukes and Smith & Caughey's).
M.A.C Face and Body Foundation $75
An old favourite - it lasts for ages and is easy to carry on tour as you can decant it into travel-size bottles.
* Rita and Douglas runs at the Auckland Town hall concert chamber until Saturday.
Tickets $39.90-$44.90 plus booking fee. Ph 0800 BUY TICKETS.