Beauty treats for the young and young at heart.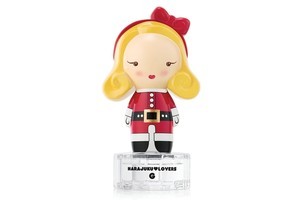 As any mother of teens and tweens knows, brand consciousness starts early. They can't always get what they want, but that won't stop them asking.
Here are some of the most covetable items out there - and a few fun cheapies.
1. M.A.C Satin Lipstick in Snob $36
A mauveish pink colour that M.A.C's senior makeup artist in New Zealand tells me was the favourite shade of young shoppers starting with school ball season. While pink, this is not too lolly and there's a nice sheen to the finish.
2. Lancome Hypnose Doll Eyes Mascara $58
Volume, length, separation and curl; that's the Holy Grail of mascara followers and Lancome attracts more worshippers than other prestige brands for its ability to deliver a convincing message to lashes. Now with cutie pie packaging.
3. Taylor Swift Wonderstruck rollerball 10ml eau de parfum $31
Ideal sized fragrance to pop in a clutch bag, though if you're not into sweet, Miss Swift won't strike the right chord. There is also a 200ml scented body gel ($45) and lotion ($47). (From Farmers and selected stores, or online.)
4. Stila Lip Enamel Luxe Gloss in Euphoria $62
This is one of those glosses that gives a lipstick-like performance, but with a comfortable moist feel. It brushes on in a dark berry shade that lasts. Stila also makes superior lighter glosses and lip and cheek stains. (Get it from Mecca.)
5. Becca Lip and Cheek Creme in Tuberose $65
This watermelon pink is great to enliven lips and cheeks, but if you fancy something more subtle there are delicate pink, peach and caramel tones too. Blends well and being shimmer-free leaves a natural look, and the little compact with mirror is easy to carry about. (From the Department Store and Glamorpuss, Newmarket.)
6. Harajuku Lovers Jingle G 10ml eau de toilette ornament $45
The latest limited edition in this cute range of collectibles contains an oriental fruity floral fragrance and makes an ideal tree ornament. (Smith & Caughey and Life pharmacies from December.)
7. O.P.I Muppets Collection: Gone Gonzo $24.90
Aqua-blue glitter polish that not only features sparkles, but also little circular discs for added bling. Looks best over a colour; try teaming it with a darker blue, hot pink or tangerine. The limited edition collection also features a green glitter or the multi-coloured Rainbow Connection, perfect for wearing to the Muppets movie when it comes out after Christmas.
8. Maybelline New York Colorama Urban Coral, Turquoise, Lemon and Orange $8.49
Colorama mini nail polishes are a great way to try a glossy new shade, with the Urban Wild range of four brights the latest addition to the collection. The turquoise is right on trend and although the bottles are small, the brushes are full-sized.
9. Napoleon Perdis Luxe Gold Glam-to-Go collection $69
The Gold Dust gives a subtle shimmer and is sold in a Christmas gift set with a mini mascara and a gold-flecked gloss.
10. Manicare Glam Crystal Face Jewels $9.99
These little jewels come with pre-applied adhesive so are simple to stick on for added sparkle.
(Farmers and selected pharmacies.)
11. The Body Shop The Sparkler in Enchanting Gold $50
Coat yourself in a fine cloud of shimmer powder, but be careful to shield your party dress during application.
12. Manicare Glam Eyes Alicia Accent Lashes $12.49
Half lashes are easier to apply than the full set, and with pre-applied adhesive these are cinch to set in place for a winged outer eye.
13. Sally Hansen Salon Effects nail strips $19.99
Stick-ons out for a limited time in Christmassy designs, including snowflake patterns, candy cane stripes and tartan, or check out the glitter finish or silver and black Argyle patterns. (From Farmers and selected pharmacies.)
14. Milieu French Vanilla and Wild Jasmine 35ml diffusion set $17.99
Less worrisome than candles, a diffuser is a good option for room fragrance. Available also in White Gardenia and Lavender, and Palmarosa and Sweet Mandarin. (Exclusive to Farmers.)