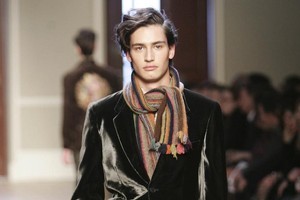 Sir Paul Smith is to be awarded with Britain's highest fashion honour later this month.
The designer will be presented with The Outstanding Achievement in Fashion Design prize at the annual British Fashion Awards on November 28.
The coveted gong - presented by the British Fashion Council - was given posthumously last year to Alexander McQueen. Other high-profile winners include Dame Vivienne Westwood and John Galliano.
The award is given to those who have made an exceptional contribution to the fashion industry over a number of years.
"The thing I'm most proud of out of anything is continuity - the fact that I've always done OK. I've never been number one or today's flavour. But I'm reliable, polite, and I deliver clothes on time that are well made at the right price," he told British newspaper The Sunday Telegraph.
"We are a very serious company. We have always made profit, sell in over 50 countries, have never borrowed money and sit in shops next to Prada, Gucci, and Louis Vuitton.
It's great to receive this award, amazing, because we do lots of hard work."
Sir Paul knows how much work is required to be successful in the fashion industry. The 65-year-old star appreciates his triumphs more so because of his humble beginnings.
"I learned the trade doing some crummy jobs. That's why I get a bit fed up with people who come to me now and they want to have a fashion show and be on the front cover of Vogue. But they haven't done the groundwork, and it just seems kind of sad," he said.
Sir Paul now employs more than 1000 people, and has a hugely successful fashion brand.
He has 14 stores in the UK alone, and many more in 35 countries across the globe.
Sir Paul is unable to collect the prize in person as the event clashes with a scheduled work trip.
- AAP