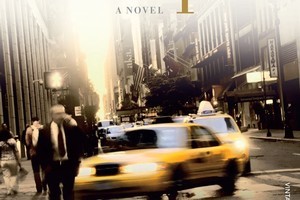 We'll be honest. Some months, when we've compiled this list, we've been scratching our heads. You'd think that with all the hundreds of books published globally every month it would be easy to find five or six good ones. But sometimes it can be a dispiriting exercise. The most promising books can fall flat after the first chapter, or disintegrate under the weight of a dozen scathing reviews.
This month is probably our strongest fiction fix yet. Reviewers all over the world have been scrambling to invent new ways to effuse over literature.
1. The House of Silk, by Anthony Horowitz
With The House of Silk, it could have gone either way. This is the first officially sanctioned Sherlock Holmes story since Sir Arthur Ignatius Conan Doyle published his last book about the Baker Street detective in 1927.
British author Anthony Horowitz was commissioned by Conan Doyle's estate to create, in Horowitz's words, "a first rate mystery for a modern audience while remaining absolutely true to the spirit of the original".
A cynical attempt at squeezing more money out of the famous pipe-wielding sleuth? Perhaps.
But British reviewers have been enthusiastic, nay enraptured.
"This is a no-shit Sherlock", proclaimed a Guardian critic. "Handsome, authentic and stylish," exclaimed the Financial Times. "A terrific mystery," declared the Independent. "Holmes Heaven," cooed The Times. Enough already. Bronwyn has chosen to feature The House of Silk as her December read, so feel free to grab a copy and read along. She'll post an introductory blog next week.
2. Animal People by Charlotte Wood
Animal People by Charlotte Wood tracks a watershed day in the life of a young Sydney man who has resolved to break up with his girlfriend. He's a bit of a loser, and the book is an easy yet deceptively confronting read. It's billed as "a sharply observed, 24-hour urban love story".
"Charlotte Wood is one of our finest and most chameleonic writers," said The Australian reviewer Rebecca Starford. "Wood's novels are often uncomfortable explorations of Australian life: seemingly modest in their ambition, the narratives are profound in their emotional scope ... This is a beautiful, resounding tale of an ordinary man flailing. It's superb storytelling." Charlotte Wood has included questions for book clubs on her website. [www.charlottewood.com.au/animalpeople.html] Christine has chosen this as her December feature read.
3. The Street Sweeper, by Elliot Perlman
Staying with Australian authors, the third novel from Elliot Perlman begins by introducing two very different New York men. Lamont Williams is a young African American recently released from prison and working out his probation as a janitor in a cancer hospital, when he befriends an elderly holocaust survivor who yearns to tell his story. Adam Zignelik is a history professor and the son of a civil rights lawyer, whose career and relationship are crumbling when he discovers some long-forgotten recordings of holocaust survivors.
"Tell everyone what happened here," is the refrain of this book which concerns racism, prejudice, history and humanity, spanning from the holocaust to the US civil rights movement and today. (Phew!) According to the Sydney Morning Herald, "Both protagonists are etched with the keenest of nibs...[but] the real stories here are the ones that eddy out around them... as if focusing for too long on one person can blind us to the fact that our most vital stories are the ones that connect us, rather than belonging to us alone, and are bigger than any individual."
Speaking on Radio New Zealand National, Rae McGregor described it as a book "you don't want to end but you can't put it down ... Be prepared to go without sleep to finish it."
4. Cold Eye of Heaven by Christine Dwyer Hickey
Another widely praised new release is Cold Eye of Heaven by Dublin-based author Christine Dwyer Hickey. It weaves together the story of an elderly Irishman, who finds himself lying paralysed on the bathroom floor and lets his mind wander through his life, and the story of the city of Dublin over those eventful 75 years.
Guardian reviewer Stevie Davies called it "the most profound novel I have read for years" and the Independent praised its richness and complexity: "a hauntingly poignant portrait of a Dublin existence, rendered, as is every life in close-up, extraordinary".
5. Foal's Bread by Gillian Mears
Foal's Bread is the first novel in 16 years from (yet another) acclaimed Australian author, Gillian Mears. When the book begins it is 1926 and 14-year-old Noah and her father are driving pigs from farm to farm in northern New South Wales. One night while her father is drinking at the local shanty, Noah gives birth prematurely to her dead uncle's baby and floats it down the river in a butter box. But her luck turns when her fearlessness in the saddle brings her to the attention of champion showjumper Roley Nancarrow. This story of love, horses and family pretence and prejudice, is set against the harsh realities of life in rural New South Wales in the interwar years. According to The Age, Mears' writing is "so assured that her observations of race, the land, love, sex, gender and luck are intricately and infinitely textured. The speck of the world at that historical moment shimmers and flickers beyond the high-tech 2011 line of vision."
Or as the Sydney Morning Herald put it, "With Foal's Bread, it's good to see one of our best writers is back in the game."
* On Friday Christine will review her November feature read, Autumn Laing by Alex Miller, and launch our December competition. We'll have three pairs of The House of Silk by Anthony Horowitz and Animal People by Charlotte Wood to give away. To enter, you'll need to tell us your pick for the best book of 2011, and why.
- NZ HERALD ONLINE