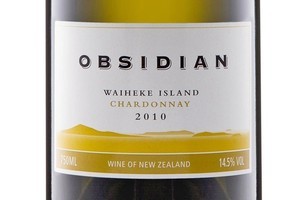 With the euphoria of the Rugby World Cup finally ebbing, please excuse an indulgent retrospective analogy.
In New Zealand's world of wine there are a handful of stars that have an international reputation, a number that hover beneath the radar of critical acclaim, and then there's the rest who do a fine job but have yet to establish themselves as major players.
That reliable, unflashy but always dependable "lock of ages" Brad Thorn is a perfect example of someone who you'd always love to have in your team because he just gets on with it and does the business. He may not be top-of-mind, but then he was always too busy doing the often-unseen work in the engine room.
Waiheke Island's Obsidian Vineyard is one of the Brad Thorns of our wine industry. Solid and dependable, with the ability to surprise but usually quite happy with a "no bugles, no drums" approach to the art of producing fine wine.
The quiet, gentlemanly Lindsay Spilman spearheads this enterprise and is a close neighbour to Waiheke's prestigious Onetangi Stonyridge vineyard and exciting new syrah specialists, The Hay Paddock.
Spilman need not fear, his portfolio of wines has been garnering a loyal following and numerous awards since 1997 and Obsidian's reputation lends significant weight to the rise of Waiheke's reputation as a serious producer of premium wines.
Spilman's interest in wine was developed while studying at university and moonlighting as a wine waiter. Overseas travel whetted his appetite and he was greatly influenced by some of the world's prestigious wine regions, especially Bordeaux and Tuscany.
The flagship Obsidian Bordeaux blend is a personal favourite and will certainly reward careful cellaring. There's a smart northern Rhone-style syrah and aromatic chardonnay with small volumes of tempranillo thrown in for good measure. Weeping Sands is the second label and some real bargains are to be found here; the Montepulciano has a loyal enthusiastic following, look for more Bordeaux blends and a lovely standalone merlot, a pinot gris and a sure-to-please-over-summer, merlot-based rosé.
2010 Obsidian Chardonnay, $35-36
Nothing timid about this wine, it has a no-holds-barred style with heaps of character. Hazelnut, peach and brioche flavours leap out of the glass and the palate is rich and full with loads of texture and weight. A clean, lingering citrus finish.
2010 Weeping Sands, $35
Montepulciano A touch of Tuscany thousands of kilometres from Italy, this wine has lovely flavours of ripe plums, mixed herbs and lashings of oak with rich textured tannins. Fleshy and fulsome, it would be great with pasta and red meat.