Our native forests enliven Meg Liptrot's gardening efforts at home.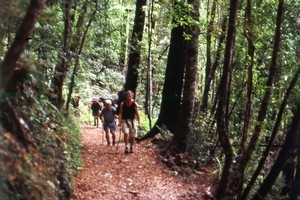 Tramping is one of the things our country is known for, yet many New Zealanders haven't ventured further than their car will take them. It is more likely you'll bump into German or French visitors on some of our Great Walks. It's my opinion that you can't really know a place like ours without getting out of your comfort zone and into the wild lands. It's there you can gain the ultimate inspiration for your own garden.
In making this grand statement, I admit to not being naturally inclined to pick myself up by the scruff and go on a tramp. As a child I would moan at the prospect but, once out, my cousins and I always had great fun. I realise now that it was on one of those day walks in the Waitakere Ranges, listening to my uncle wax lyrical about the Taraire fruiting, or letting us taste flax flower nectar, that my appreciation of native plants and wild Aotearoa began.
Over the years, I was coaxed into greater expeditions, including a trek in the far north from Spirits Bay through Cape Maria van Diemen, with its beautiful pink clay. This is where I learned to appreciate the little details along the way, and photographing them ( annoying my fellow trampers): lizard tracks in the sand dunes and windshaped manuka or bleached driftwood.
Along the South Island's Heaphy Track, I wondered at the mysterious misty beech forest and silent leaf-litter paths, which opened up to the grandeur of Gouland Downs. Unusual granite outcrops, similar to Easter Island statues, punctuate these vast tussock lands.
Even the smaller stones along the path had unusual red lichens and mosses growing on them with intricate patterns and tiny flowers. Ah, for macro lenses.
The nikau-fringed white sand coast added a Pacific Island dimension, as we neared the end of the tramp at Karamea. As you come to appreciate the rugged, wide-ranging beauty of this country, it is easy to develop a taste for native landscapes.
You quickly learn which plants grow where in terms of exposure, whether it be a full sun, coastal situation, or the leafy, quiet shade of the forest.
Our homes and neighbourhoods are often highly modified suburban sections or grazed pastural land, so different from the original habitat which made this part of the planet unique, but New Zealanders can still bring a little of the wild into their own backyards. Perhaps you'll plant a garden which celebrates the uniqueness of your local area or incorporate natives into your overall planting plan.
Alternatively, volunteer on a native revegetation campaign, helping to plant pioneer species that will be left to revegetate back into a cloak of forest.