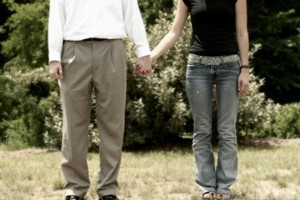 The subject of platonic relationships between members of the opposite gender is fascinating but not everyone believes in the idea that a man and a woman can share a friendship devoid of any sexual attraction or chemistry.
I wouldn't say I'm a platonic-relationship-denier but I'm definitely a bit of a sceptic. It may not be a very modern or sophisticated thing to admit but I view platonic relationships in much the same way as I do the Loch Ness Monster: they're a nice thought and lots of people are adamant they've had firsthand sightings of them but I'm not totally convinced they exist.
My own personal history is surely to blame. I had two brief friendships with men when I was eighteen and neither of them survived past the first coffee-date before the guys made it clear they had other aims in mind. And in my twenties a man became my constant companion at a time I was experiencing extreme emotional difficulties. I considered the relationship purely platonic although my friends, family and shrink were convinced I was blithely missing all the signals.
Platonic relationships were the focus of my Canvas article entitled Friends without benefits. Two of the women - one of whom described her encounter with a flatmate as having "screwed the crew" - I interviewed confessed to becoming romantically involved with a platonic friend of the opposite gender.
It seems that platonic friendships come with a degree of danger. Relationship experts warn people to "set boundaries", avoid "blurring the lines" and not to become too touchy-feely with the other person, lest the wrong signals be sent. In fact, a survey of more than 1450 members of dating site match.com found that 62 per cent had crossed the line from platonic friendship to a romantic or sexual encounter.
To me platonic relationships seem more feasible and sustainable if there's "relationship equality" between the two participants. If they're both romantically involved elsewhere then there's probably a degree of comfort, if not an ironclad guarantee, that neither party is secretly hankering after the other.
But when one is single and one is attached there's an asymmetry that could lead to complications. It's almost as if the only thing stopping the relationship escalating to a romance is the existence of the boyfriend or girlfriend. And, romantic partners aren't always open-minded enough to accept the fact their other half is choosing to hang out with his or her platonic friend of the opposite gender. Such a relationship is often perceived as a threat by those on the outside.
Of course, the perfect platonic relationship is surely the one that exists between a woman and a gay man - or, presumably, between a man and a gay woman. Without the threat of possible sexual attraction, this is a purely platonic friendship that could convince even the sceptics.
- NZ HERALD ONLINE